Snowflakes At WND Also Triggered By Criticism of 'Toxic Masculinity'
Topic: WorldNetDaily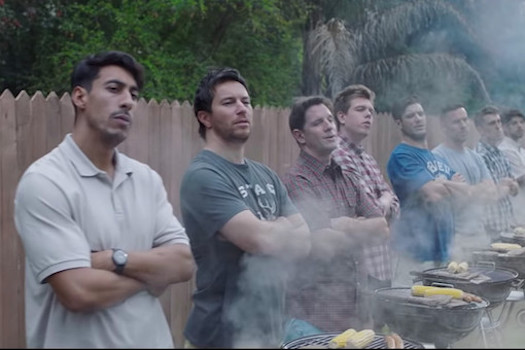 The Media Research Center wasn't the only group of right-wing snowflakes to freak out over the guidelines from the American Psychological Association and a Gillette commercial that challenge negative aspects of traditional masculinity. WorldNetDaily columnists were triggered as well.
Dennis Prager insisted:
The last thing American males need today is less masculinity.

If you need proof, ask women who are looking for a husband whether the men they date exhibit too much masculinity, too little masculinity or just the right amount. I have talked to hundreds of women on my radio show (every week I have a "Male/Female Hour"), at speeches and in private who are dating to find a spouse. Not one has said men today are too masculine. Virtually all of them have said men today lack masculinity.
Also, he wrote, this somehow proves that "The left ruins everything it touches," adding that "Any therapist who cannot unequivocally condemn the APA statement is unworthy of your time and your money, let alone your psyche."
Erik Rush similarly denounced the APA guidelines: "Given the APA's track record in contributing to the normalization of deviant behavior in recent years, I'm not quite sure why many who should know better continue to validate the organization as an arbiter of healthy psychological paradigms."
Adriana Cohen ranted about the Gillette ad:
For starters, since when does anyone – in this case, a manufacturer of men's shaving and body products – have the right to tell an entire gender how to act or, even more intrusively, how to raise their sons? Alluding to its own slogan, the company degradingly asks in the ad, "Is this the best a man can get?" Last time I checked, raising children is a parent's job, not the purview of a disposable razor company whose products, after a few uses, get thrown in the trash – exactly where its male-bashing ad belongs.

[...]

Perhaps the company has forgotten that alpha male "boys being boys" were who fearlessly stormed the beaches at Normandy and led Allied forces to ultimate victory in World War II, putting an end to the Holocaust and Adolf Hitler's satanic grip on Europe. Boys being boys dressed in New York Police Department and New York Fire Department uniforms bravely rushed into collapsing buildings at ground zero during 9/11, rescuing lives while risking – or losing – their own. And let's not forget the brave boys being boys on United Airlines Flight 93 who charged the cockpit and battled with terrorists, thereby diverting the hijacked plane from its target, the U.S. Capitol – saving countless lives.

If that kind of masculinity – that "let's roll" bravado and heroism – is what "boys being boys" is all about, someone should tell the "woke" crowd we need more of it, not less.
WND devoted a "news" article to the "serious backlash" Gillette has received over the ad, citing such supposed paragons of masculinity as Piers Morgan and Rush Limbaugh. It also [published syndicated columns by Ann Coulter and Michelle Malkin bashing the ad.
Posted by Terry K. at 12:25 AM EST