MRC Hypocritically Complains A Conservative Is Suggested To Be Drunk
Topic: Media Research Center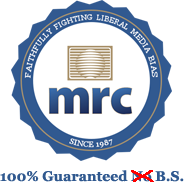 The Media Research Center's Nicholas Fondacaro huffed in a Feb. 9 post:
Things got very twisted on MSNBC's The Last Word Monday night, as two giggly journalists smeared Senate Majority Leader Mitch McConnell for invoking Rule 19 against his colleague from Massachusetts Elizabeth Warren. CBS's Nancy Giles described McConnell as on a power trip, "I mean, it's like I think they are drunk with power. It's not 'like,' they are. They've got the House and they've got the Senate."

The Daily Beast's Erin Gloria Ryan took it a step farther and joked that Senate Republicans really were drunk Tuesday night. "They're acting kind of drunk. This is a drunk thing to do," she said excitedly playing off Giles.
Fondacaro might have a point if his MRC co-workers didn't also like portraying people they don't agree with as being drunk.
His boss, Tim Graham, did this last October to conservative John Ziegler for pointing out the inconvenient truth that the MRC "fundraises off of bad media coverage and wouldn't exist if the problem ever really got solved." Graham repeatedly made "Breathalyzer" references, meaning that he thought Ziegler was drunk.
And on Feb. 14, P.J. Gladnick did it to conservative New York Times columnist David Brooks for saying of the current Trump White House chaos: "I don't think we're at a Bonhoeffer moment or a [St.] Benedict moment. I think we're approaching a Ford moment." Gladnick sneered in response that "it seems that David Brooks has entered his Benedictine liqueur moment. Much too much of it," adding: "A 'Ford moment?' This makes me think Brooks is back in his Benedictine liqueur moment."
If the MRC didn't have double standards, would it have any standards at all?
Posted by Terry K. at 4:22 PM EST