CNS Trump Stenography Watch, Gorsuch Edition
Topic: CNSNews.com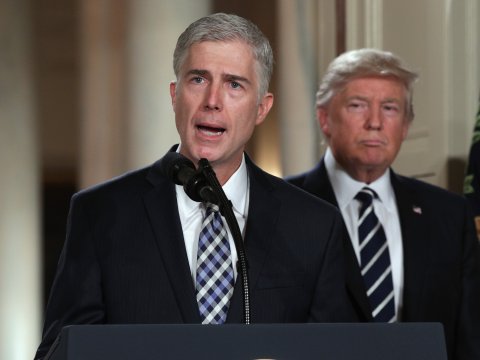 CNSNews.com hedged its bets a bets at first on the idea of Neil Gorsuch as a Supreme Court justice. As chatter grew about him, it published an op-ed by Larry Pratt of the right-wing Gun Owners of American and birther-adjacent lawyer William J. Olson fearing he might not be sufficiently pro-gun enough.
But when the selection of Gorsuch was officially announced, CNS went into its usual fawning/stenography mode:
Chief CNS stenographer Susan Jones wrote a single article critical of Gorsuch, but framed opposition to him as crazy and unreasonable, as demostrated by the headline "Pelosi: Gorsuch 'Against Employees' Rights, Clean Air, Clean Water, Food Safety'—Even Autistic Children."
CNS' Barbara Hollingsworth also cranked out a one-sided article (the only kind she writes, it seems) headlined "Law Profs: Judge Gorsuch's Record Puts Him Well Within Nation's Legal Mainstream." Not only does Hollingsworth not identify the ideology of any of those law professors -- though given that she writes for CNS, we can presume all of them are conservative and she would not have bothered to talk to anyone not pushing the Trump administration line on Gorsuch -- one of those offering praise, curiously, is John Yoo, infamous for his work in the Bush administration in providing legal justification for "enhanced interrogation," which many have called torture, so he might not be the best judge of what is in the "legal mainstream."
Posted by Terry K. at 2:06 PM EST