WND's Farah Still in Denial About Publishing Fake News
Topic: WorldNetDaily
It's indisputable that WorldNetDaily publishes fake news -- we've found a few recent examples ourselves -- but WND editor Joseph Farah (who creates no small amount of fake news on his own) will never admit it, and it continues to be in denial about it. Yet he's also very sensitive to the charge.
In his Feb. 10 column, Farah lashed out at a website called "FakeNewsChecker.com" that listed WND has a purveyor of it. "You won't find out on the website who's behind it. It's been around since Nov. 17. And, irony of ironies, it makes stuff up. In other words, it's a 'fake fake news checker.'"
Farah took great exception to the website's claim that WND "received donations from the Donald Trump superPac Great America PAC," huffing that it was completely false, though "It's possible that such a PAC has advertised on WND – many have."
Farah actually has a point here. FakeNewsChecker is a strangely organized site, its claim that WND "received donations" from Great America PAC is not quite true -- though Farah should know, since he's also WND's CEO, that the PAC rented out WND's mailing list twice by our count -- and the fact that we could not figure out who's behind it is a red flag.
That said, note the cheap rhetorical trick Farah is pulling -- citing a shoddy criticism of WND as representative of all criticism of WND. Farah would never say the same thing about ConWebWatch, which is not only on record as to who we are, we can also cite chapter and verse of the fake news WND has published and can come up with specific examples of "anti scientific fact," in the words of FakeNewsChecker, that WND has run, as well as examples of exactly how it is "conspiratorial" and "inciteful."
Indeed, all you need to know aobut WND's editorial agenda is that it considers promoting the conspiracy theory that Supreme Court Justice Antonin Scalia was murdered to be a "milestone" on its "path to greatness." No, really -- it's in the promo for this Feb. 15 "today in WND history" article (as well as in the headline for the article itself):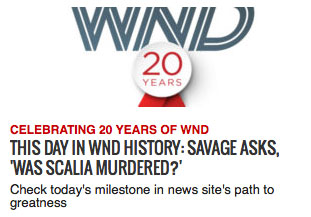 But Farah will never call out ConWebWatch because we respond and can back up what we say, as
he found out in 2008
.
Instead, Farah does some manhood-measuring and dishonestly defends his website:
How do I plead? Well, I would like to point out that I may be the one and only founder of an online news agency that spent more than 20 years in what we euphemistically call "the mainstream media," running daily newspapers in major markets. WND was also the very first independent online news agency founded 20 years ago. That adds up to more than 40 years of experience directing large news agencies. I should also point out that I taught journalism at UCLA and have received countless awards for my work in the so-called "mainstream" news media long before founding WND. I served as an expert witness on journalistic standards and practices in some of the largest media lawsuits in history.

And the team of WND's journalism professionals – editors and reporters – have collectively hundreds of years of experience doing similar things in the news media.

[...]

Notice WND reports openly and honestly, listing publicly who's who, sourcing its reports, attributing its claims and operating under the highest standards of traditional American journalism, while very often its worst detractors hide in the shadows like cowards while slinging the most reprehensible unfounded and unsupportable charges.

At the end of the day, I'll leave it to you to determine for yourself who has more integrity and credibility.
In fact, we've noted that more and more WND articles lately have no bylines at all, which counters Farah's claim that it's "listing publicly who's who." And the claim that WND is "sourcing its reports, attributing its claims" glosses over the fact that it won't report when those attributed sources are wrong when doing so would undermine WND's right-wing agenda; otherwise, its readers would have known years ago that WND's birther conspiracy was discredited.
We've amply demonstrated that WND lacks integrity and credibility. It's a demonstration of Farah's own lack of integrity and credibility that he can't admit we're right -- or even have a civil conversation with us about it.
Posted by Terry K. at 2:00 PM EST