CNS Spinning for Trump on Flynn Scandal
Topic: CNSNews.com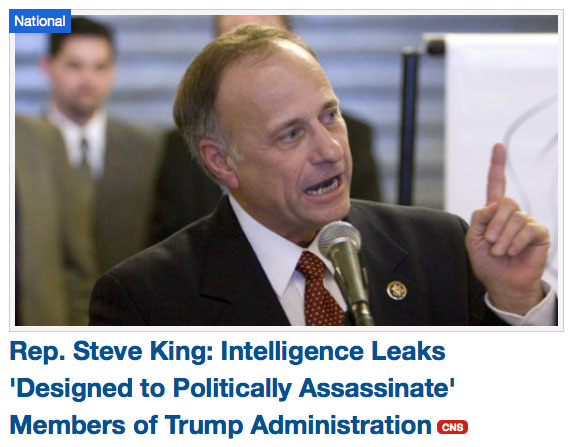 As you'd expect from the "news" operation that defended Donald Trump -- and, thus, Russia and Vladimir Putin -- over allegations of Russian meddling in the presidential election, CNSNews.com is largely following Trump marching orders in the aftermath of Trump national security adviser Michael Flynn over his conversations with Russian officials about sanctions issued by President Obama before he officially joined the Trump administration.
CNS -- unusual for an operation that pays the Associated Press no small amount of money for use of its content but barely promotes it -- actually ran an AP story or two about Flynn's departure on its front page. But most of its original content the day after Flynn left was, as usual, mostly written by chief stenographer Susan Jones and dedicated to spinning for Trump and even saying nice things about Flynn, like these:
Jones' work on Democratic reaction to Flynn, also as usual, was decxicated to painting them as alarmist and unreasonable:
CNS's so-called reporting quickly coalesced around the Trump-approved talking point that the real problem wasn't Flynn by that the offense that got him fired was leaked to the media, which feeds nicely into the tired old talking point that the media is out to get Trump:
The least biased article CNS ran was one in which Jones admitted that Republican members of Congress would also like Flynn brought before the House Intelligence Committee.
So: Lots of bias, with the occasional window-dressing of actual journalism to perpetuate the illusion of being an actual news operation. That's pretty much how CNS is run under Terry Jeffrey and Michael W. Chapman.
UPDATE: CNS has added a couple more articles: One by Jones on Republicans calling for an investigation of how intelligence was handled (but not of Flynn's behavior), and another quoting Sean Hannity complaining that the media is trying to "make anything into the next Watergate" in an effort to impeach Trump.
Posted by Terry K. at 12:16 AM EST
Updated: Thursday, February 16, 2017 4:42 PM EST