MRC's Graham Smears MRC Critic As Drunk
Topic: Media Research Center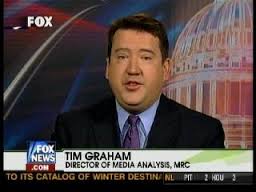 It seems the Media Research Center may be even worse at taking criticism than WorldNetDaily 's Joseph Farah.
MRC director of media analysis Tim Graham spent an Oct. 17 post lashing out at conservative activist John Ziegler for pointing out at Mediaite that Donald Trump's claim of media bias is the desperate defense of a terrible candidate, obscuring what he considers genuine media bias, and that the MRC is simply trying to cash in by latching on to it because it "fundraises off of bad media coverage and wouldn't exist if the problem ever really got solved." Mostly, Graham portrays Ziegler as drunk for saying it by making "Breathalyzer" references. Commence the whining, Tim:
There's nothing laughable in the charge that the problem of media bias against Trump isn't "real." You may argue Trump is not a movement conservative (many did during the primaries and many still do). But the reality of media bias against Trump surrounds anyone who follows the political media right now. Ziegler then launches into arrogant boasting about how he takes media bias too seriously to face "fake fighters against bias" like the "conservative" "Media Research Center."

[...]

Dear John: We don't know what we did to deserve this Breathalyzer-worthy rant. Many of us have spent most of our careers building the case against liberal media bias. There's nothing "fake" about it. You don't provide one "fake" example. If we are somehow insincere to fight the good fight for 30 years insincerely to keep the money coming in -- then can't it just be easily turned around on your career?

It's understandable that Ziegler is upset that many in the conservative media lined up with Trump in the primaries. It might even be understandable that Ziegler is mad that the MRC is still identifying how the media proves daily it's seeking a Trump defeat in the general election. Apparently we should somehow be taking two months off and knitting Reagan quilts. But it's offensive to insist anyone who disagrees with your tactics is whoring themselves out for (non)profit.
But it's undeniable that the MRC's embrace of Trump's media bias claims has been selective, depending on the target. As we've documented, the MRC wouldn't touch Trump's accusations of media bias in 2015 -- but then, they were targeted at Fox News, where Brent Bozell has a weekly slot on "Hannity" and he and other MRC employeees make regular appearances. It's only when Trump started targeting the so-called "liberal media" -- coincindentially, the MRC's main target -- in the wake of bad news about his vile misogyny that the MRC bothered to echo them.
Also remember the MRC's big flip-flop: It was originally bashing the "liberal media" for being too soft on Trump.
But Graham is too busy smearing Ziegler as an alcoholic to address the substance of his criticism, that Trump didn't push the "crooked media" line until women stepped forward with tales of his boorish behavior, and "Trump's complaints are not based in truth, but in desperation. He is saying whatever might sound good at the moment to his base of fanatical future subscribers to whatever media venture he will create after he loses."Graham certainly knows this as well. But as long as he's saying the right words about a "crooked media," Graham won't bother to acknowledge that Trump's just playing to the base to save his political skin and not making an intellectual argument.
That appears to be because Graham knows he's right about the MRC being opportunistic. If the MRC was sincerely interested in media, wouldn't it have taken all bias complaints by Trump seriously? After all, accusing Fox News of media bias wouldn't rake in the donations that accusations against its pretedermined targets generate.
To see that just requires applied logic, not a chemically altered state. The fact that Graham can't, or won't, see the difference between the two tells you all you need to know about the MRC.
Posted by Terry K. at 4:09 PM EDT