MRC Predictably Hates Boy Scouts' Decision to Admit Transgenders
Topic: Media Research Center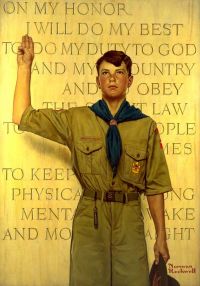 As professional LGBT-haters, the news that the Boy Scouts will accept transgender scouts did not go down well at the Media Research Center.
Sarah Stites whined: "Since 2013, the Boy Scouts of America have quickly caved to the progressive agenda, admitting both homosexual guides and scouts. As of today, transgender boys can now join troops." She huffed that "the networks did spin the news positively," adding: "Because scouts are required to acknowledge their duty to God, the BSA still prohibits avowed atheists and agnostics from membership. Eradicating this stipulation will likely surface as the next item on the progressive agenda."
Stites' complaining about the "progressive agenda" is rich, as if she and the MRC don't have an agenda of their own to promote.
Tim Graham -- known for his anti-transgender freakouts -- and Brent Bozell were even more whiny in their Feb. 3 column, asserting that the Boy Scouts of America "used to be derided as a 'traditional, values-based' organization" before it "folded on homosexual Scouts and then on homosexual scoutmasters." Now, they huff, " This cowardly shell of an organization should just scrap the references to God, and every God-respecting church should jettison their Boy Scout units to the nearest secular gathering place."
They rant about "libertine leftists" -- a favorite term of Graham's; remember, Graham actually writes this syndicated column and Bozell simply slaps his name on after the fact, something he was content to hide from the public until the truth came out -- and "homosexual celebrity lobbyists" who liked the changes and grumble that since "relativism is king" now, "Perhaps the next "reform" might be an 11-year-old Boy Scout declaring that he identifies as an Eagle Scout, negating the need for any stinking merit badges or review boards."
Posted by Terry K. at 8:22 PM EST