WND -- Which Loves Likening Obama to Hitler -- Is Shocked Some Are Likening Trump to Hitler
Topic: WorldNetDaily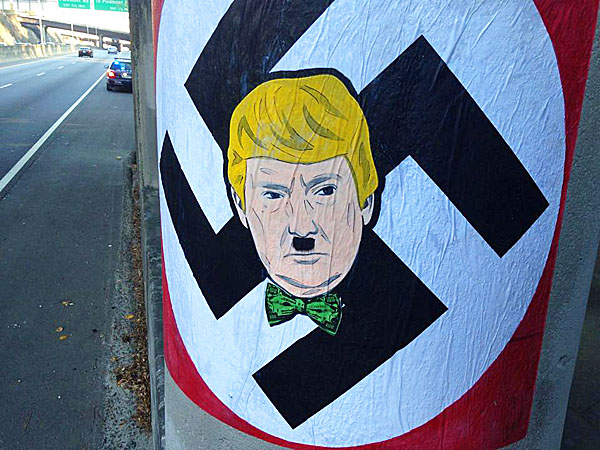 WorldNetDaily is shocked -- shocked! -- that anyone, let alone five writers published by the Washington Post over nine months, would liken Donald Trump to Hitler. Managing editor David Kupelian huffs in an Oct. 5 piece: "What can one say to a newspaper that repeatedly compares a gutsy, outspoken billionaire businessman-turned-presidential candidate to a mass-murdering monster?"
Well, one could start by posing this question to Kupelian: What can one say to a website that repeatedly compares the first black presidential candidate to a mass-murdering monster?
Because that's exactly what Kupelian's WND did to Barack Obama.
In 2008, WND gave ample space to Hilmar von Campe, a former Hitler Youth who apparently didn't forget what he learned about the Nazis' Big Lie technique in likening Obama to Hitler:
"Socialist Hitler destroyed free society in a few months. Socialist Obama is close to his steppingstone." -- Oct. 28, 2008
"Germany at the beginning of the '30s was in deep economic trouble with about 6 million unemployed. Hitler became the savior for millions of miserable people who adored the likeable deceiver but did not have the slightest idea what he was up to. The same is true for America now in the worst economic and financial crisis ever. Obama appears as a savior without people analyzing his character and record." -- Nov. 15, 2008
"There was another Nazi organization that had the same task as all other institutions, namely to keep people under control and influence their thinking. It was the Service to Work (Arbeitsdienst). Young men had to serve half a year before entering into military service. It seems that Obama likes this Nazi feature because he has proposed, in addition to the idea of a civilian national security force, a plan to create a national community service program. ... His plans point to where he wants to lead the American nation: onto the same road Germany took in 1933. Americans, do you want to go in that direction?" -- Nov. 25, 2008

WND even defended von Campe's smears by asserting that "As a person who survived the nightmare of Adolf Hitler, von Campe believes he carries a sober responsibility to warn Americans how quickly free society can be destroyed through socialist ideology."
WND has published numerous other Obama-Nazi comparisons, as well as columns defending them.
Kupelian also quoted right-wing blogger Jeff Dunetz denouncing the Trump-Hilter comparisons. Dunetz noted that unlike Hitler, Trump hasn't "forced people to tattoo numbers on their arms," "murdered people, cremated their remains and buried them in mass graves," "wrote a book called 'Mein Kampf' in which he spoke of his hatred toward Jews and previewed his 'final solution,'" "conducted horrible, painful medical experimentation on humans," nor did he "round up people he doesn't like, force them into box cars like cattle and deliver them to concentration camps." Dunetz added: "Until there is evidence of the above, any comparison of Donald Trump to Hitler and/or the Nazis is not only false, inappropriate, and an example of careless writing."
Guess what, Mr. Kupelian? None of those things apply to Obama either, yet you and your published numerous instances of likening Obama to Hitler and other Nazis. Which makes you an utter moral hypocrite for denouncing others for engaging in behavior you condoned and promoted.
Kupelian concludes:
One final consideration. There were at least 16 different plots to assassinate Adolf Hitler, including most famously "Operation Valkyrie" (the so-called "20 July Plot"), which was made into a blockbuster movie starring Tom Cruise as the heroic German army officer, Col. Claus von Stauffenberg. Even the revered Lutheran pastor and theologian, Dietrich Bonhoeffer, was executed by German authorities for his role in this particular plot. The people who attempted to assassinate Hitler – to slay a psychopathic monster, to stop a genocide, to end a terrible war – are rightly regarded as patriots and heroes.

So, what does this say about the Washington Post – and others in the "mainstream media" who consider themselves America's arbiters of truth – continually comparing Republican presidential candidate Donald Trump with Hitler? Does such "journalism" legitimize threats and violent attacks on Trump and his supporters?

If someone, God forbid – convinced he is a modern-day von Stauffenberg, heroically attempting to rid the world of this generation's Hitler – were to shoot Donald Trump, would the Washington Post deserve any of the blame?

I say yes.
Does that mean we could assign some of the blame if some would-be modern-day von Stauffenberg, heroically attempting to rid the world of this generation's Hitler, were to shoot Obama? We say yes -- just like we say WND has some actual blame for Anders Breivik's massacre of dozens in Norway (Breivik cites WND six times in his manifesto) and Dylann Roof's massacre of nine African-Americans in a Charleston, S.C., church (he parroted WND's racially charged, pro-apartheid rhetoric).
Posted by Terry K. at 12:46 AM EDT