WND's Farah Offended Trump Being Likened To Hitler -- Then Smears MoveOn As Hitler-Like,
Topic: WorldNetDaily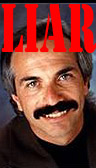 WorldNetDaily editor Joseph Farah spends his March 13 column complaining about MoveOn.org encouraging protests at donald Trump rallies. He writes:
While Trump's Republican opponents claim his campaign has invited chaos at his rallies with incendiary speech, they should remember this group used similar tactics against George W. Bush in 2004, also comparing the establishment GOP president with Adolf Hitler in media ads. If Trump's opponents think MoveOn.org would be any less brutish toward their campaigns if they were front-runners, they are hopelessly misguided.
You might recall that WND itself has spent notable time over the years comparing President Obama to Hitler and various Nazis -- heck, it even published an op-ed defending such comparisons. If likening Trump to Hitler is a "brutish" tactic now, it was brutish when WND was giving a platform to people likening Obama to Hitler.
Farah is once again being hypocritical --so much so, he goes on to make the very same "brutish" smear against MoveOn in this very same column. Apparently, being "brutish" is OK in Farah's eyes when it advances your agenda.
Farah then huffs that MoveOn's "thuggish tactics" are being "funded by tens of millions of dollars from Soros and a parade of other Democrat billionaires, including John Kerry's wife, Teresa Heinz Kerry, and her Tides Foundation." As we've pointed out in 2004, when WND was trying to smear Heinz Kerry because of her donations to the group, the Tides Foundation is not "her" foundation; she donated money to the group earmarked to support specific, non-controversial causes.
But Farah's not done ranting:
MoveOn.org is the new Ku Klux Klan – simply another age-old terrorist group that historically served as the military wing of the Democratic Party. Blaming Trump for their Gestapo tactics will only further their despicable ends.

[...]

These people hate America. They hate cops. They hate the military. They hate free enterprise. They hate liberty. They hate the Constitution.

This is not about Trump.

It's about winning elections, silencing opposition and using brown-shirt tactics we haven't seen since Mussolini and Hitler.

There's no middle ground here. Either you support fascist tactics like this or you oppose them.
But Farah can point to no act of "terrorism" MoveOn.org has engaged in -- unless you count organizing anti-Trump protests as "terrorism." Farah claims that "MoveOn.org hosted a petition calling on the U.S. government not to designate the jihadist organization Boko Haram as a terrorist group," but MoveOn has pointed out that the petition appeared on its "open petition platform" and gained only about 100 signatures during the two years it was active and ignored until WND friend and far-right former congressman Steve Stockman highlighted it (and worked through his WND buddy Garth Kant to make political hay out of it).
It's richly ironic that Farah is denouncing as "fascist" and "brownshirt" and Mussolini and Hitler-esque the very same tactics his organization has used against Obama for years -- and which have brought him only an utter lack of credibility.
Posted by Terry K. at 3:25 PM EDT