WND Can't Stop Hypocrisy Over Trump-Nazi Comparisons
Topic: WorldNetDaily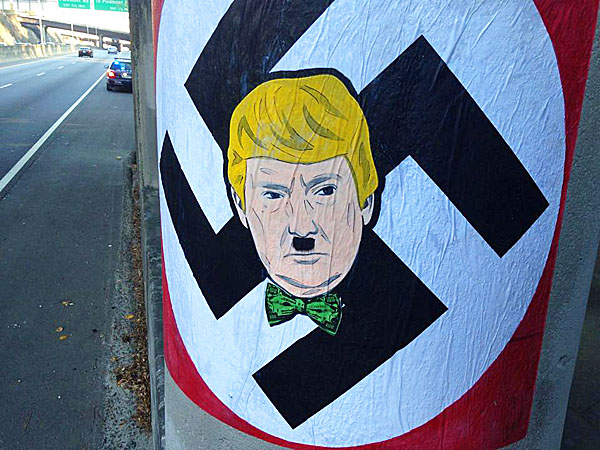 Despite the fact that WorldNetDaily has spent a lot of time likening President Obama to Nazis over the past eight years, it's still mad that some are likening Donald Trump to a Nazi. The hypocrisy hasn't stopped.
Larry Elder spent his Nov. 23 WND column complaining about how "comparing Republicans to Nazis has long been a national pastime of the Democratic Party"; he concluded by whining: "If not the Nazi card, it's the race card or the sexist card or the homophobic card. This 'I'm right; you're evil' brand of politics has a lot to do with why voters elected Donald Trump, rather than Hillary 'basket of deplorables' Clinton, to serve as our next president." Needless to say, he didn't mention all the Obama-Nazi comparisons that have been made over the years.
In his Nov. 23 column, Michael Brown similarly complained about Trump-Nazi comparisons. He declared that "This horrific name-calling needs to stop, not only because it defames the living but also because it mocks the dead – specifically, the victims of Hitler and his henchmen," adding that "In light of the depths of their evil, we had better be very careful before we label others Nazis or call our opponents Hitler."
While that's true, Brown didn't specifically call out any Obama-Nazi comparisions, let alone admit that the website that publishes his column was a prime source of those comparisons.
Unless WND apologizes for its own shameful Obama-Nazi name-calling, it has no moral basis to complain about Trump-Nazi name-calling.
Posted by Terry K. at 3:12 PM EST