MRC, Home Of Man Who Called Obama A 'Skinny Ghetto Crackhead,' Thinks MSNBC Should Apologize For Offending Conservatives
Topic: Media Research Center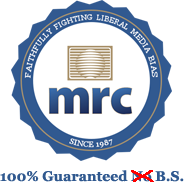 So the Media Research Center's Rich Noyes devoted an entire "Media Reality Check" to things MSNBC should be apologizing for, in addition to last week's tweet about a Super Bowl ad. Noyes declared that "The Media Research Center has compiled a long list of instances in which the network's anchors have committed character assassination disguised as journalism, unjustly smearing conservatives, Republicans and the Tea Party as racists."
Meanwhile, no apologies have been forthcoming from the MRC regarding:
Noyes should take his employer's own never-apologized-for offenses into consideration before attacking others.
Posted by Terry K. at 10:07 PM EST