CNS Repeats Global Warming Denier's Distortions
Topic: CNSNews.com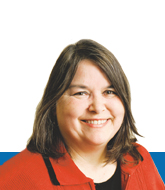 Barbara Hollingsworth proclaims in a Jan. 28 CNSNews.com article:
Dr. Don Easterbrook – a climate scientist and glacier expert from Washington State who correctly predicted back in 2000 that the Earth was entering a cooling phase – says to expect colder temperatures for at least the next two decades.

Easterbrook's predictions were "right on the money" seven years before Al Gore and the United Nation's Intergovernmental Panel on Climate Change (IPCC) shared the 2007 Nobel Peace Prize for warning that the Earth was facing catastrophic warming caused by rising levels of carbon dioxide, which Gore called a "planetary emergency."

"When we check their projections against what actually happened in that time interval, they're not even close. They're off by a full degree in one decade, which is huge. That's more than the entire amount of warming we've had in the past century. So their models have failed just miserably, nowhere near close. And maybe it's luck, who knows, but mine have been right on the button," Easterbrook told CNSNews.com.

"For the next 20 years, I predict global cooling of about 3/10ths of a degree Fahrenheit, as opposed to the one-degree warming predicted by the IPCC," said Easterbrook, professor emeritus of geology at Western Washington University and author of 150 scientific journal articles and 10 books, including "Evidence Based Climate Science," which was published in 2011.
There's lots that Hollingsworth has gotten wrong here, starting with her declaration that Easterbrook is right about global cooling.
Skeptical Science serves up this chart showing Easterbrook's predictions of cooling (the green and blue lines) vs. actual temperatures (the jagged black line):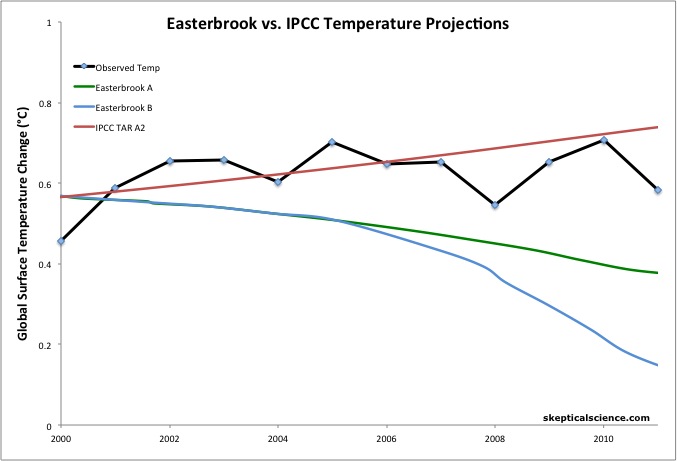 The red line is an IPCC prediction, which brings us to another thing Hollingsworth got wrong: uncritically repeating Easterbrook's claim that the IPCC predicted "one-degree warming." As Skeptical Science points out, the IPCC served up numerous analyses of temperature predictions, and Easterbrook cherry-picked one:
He chose a figure which represented model simulations of temperature responses only to greenhouse gas changes, which neglects for example the temperature response to the cooling effects of aerosols.
He chose a single model run with an anomalous temperature spike in 2011.
He only presented the data from 2000 to 2011, which concealed the fact that the temperature spike in 2011 was a short-term anomaly.
He exaggerated his distorted IPCC temperature rise by a factor of two.

Thus Easterbrook's claim that the IPCC TAR projected a 1°C global surface warming from 2000 to 2010 was not even remotely accurate.
As per usual, Hollingsworth couldn't be bothered to seek out any alternative views. Indeed, Hollingsworth even shared one fawning question she asked Easterbrook: "How does it feel to have been right?"
It's not a feeling Hollingsworth is apparently familiar with. But fortunately for her, her higher-ups at CNS don't appear to be judging her journalism on its accuracy, only on how faithfully she advances her employer's right-wing agenda.
Posted by Terry K. at 3:46 PM EST