CNS' Jeffrey Blames John Holdren For Decline In Electricity Use
Topic: CNSNews.com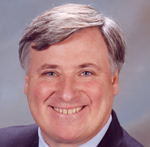 CNSNews.com editor in chief Terry Jeffrey spends his Jan. 29 column having a sad that electricity consumption in America is declining:
Americans may look back in a few decades and see that 2007 was the year that production of electricity peaked in the United States and our nation began powering down.

This may make many on the environmentalist left — including President Barack Obama's top science and technology adviser — very happy.

But it will not make life better for you, your children or your grandchildren.

According to data published by the Energy Information Administration, the United States generated a total of approximately 4,157 billion kilowatt-hours of electricity in 2007. We had never produced that much before. We have never produced that much since.

In 2012, the last full year for which there is data, the United States produced 4,048 billion kilowatt-hours of electricity — down 2.6 percent from 2007.

In the first nine months of 2013, the United States produced 3,078 billion kilowatt-hours of electricity — down from the 3,096 the United States produced in first nine months of 2012.
Strangely, Jeffrey doesn't mention the main reason for the decline: increased efficiency. The Associated Press reports:
Because of more energy-efficient housing, appliances and gadgets, power usage is on track to decline in 2013 for the third year in a row, to its lowest point since 2001, even though our lives are more electrified.

[...]

Big appliances such as refrigerators and air conditioners have gotten more efficient thanks to federal energy standards that get stricter every few years as technology evolves.

A typical room air conditioner — one of the biggest power hogs in the home — uses 20 per cent less electricity per hour of full operation than it did in 2001, according to the Association of Home Appliance Manufacturers.

Central air conditioners, refrigerators, dishwashers, water heaters, washing machines and dryers also have gotten more efficient.

Other devices are using less juice, too. Some 40-inch LED televisions bought today use 80 per cent less power than the cathode ray tube televisions of the past. Some use just $8 worth of electricity over a year when used five hours a day — less than a 60-watt incandescent bulb would use.

Those incandescent light bulbs are being replaced with compact fluorescent bulbs and LEDs that use 70 to 80 per cent less power. According to the Energy Department, widespread use of LED bulbs could save output equivalent to that of 44 large power plants by 2027.

The move to mobile also is helping. Desktop computers with big CRT monitors are being replaced with laptops, tablet computers and smart phones, and these mobile devices are specifically designed to sip power to prolong battery life.

It costs $1.36 to power an iPad for a year, compared with $28.21 for a desktop computer, according to the Electric Power Research Institute.
Instead of telling his readers the facts, Jeffrey indulges in a favorite CNS obsession: John Holdren. Somehow this is all his fault:
As President Obama moves forward with his plans for America's future energy production and economic well-being, Americans should remember that Obama's science and technology adviser declared 19 years ago that "a world of zero net physical growth" was something that "needs to be faced up to eventually."
Yeah, efficient use of electricity has absolutely nothing to do with it.
Posted by Terry K. at 10:16 PM EST