WND Tries to Frame Police Shooting As 'The Next Trayvon'
Topic: WorldNetDaily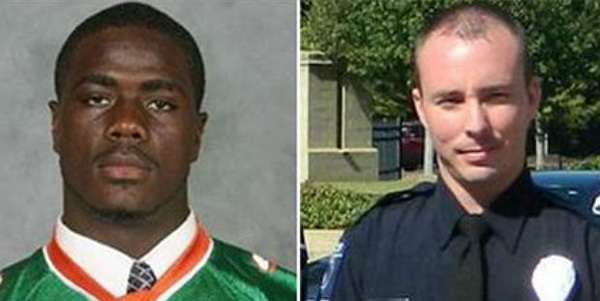 An unbylined Jan. 25 WorldNetDaily article does its best to portray the shooting death of a black man by a white policeman in North Carolina as "the next Trayvon." But that would be the WND-Jack Cashill version of the Trayvon Martin case, in which the black male was a total thug and deserved to be shot.
The article cheers that a grand jury did not indict the officer, Randall Kerrick, on a charge of voluntary manslaughter, calling the case "politically pressured" and the manslaughter charge "overcharged." But a few days later, Kerrick was charged, prompting WND to sneerin a Jan. 27 article "If at first you fail to indict, try, try again,' claiming the indictment came after "civil-rights activists loudly marched outside the Charlotte courthouse."
In both articles, WND frames the incident to make the victim, Jonathan Ferrell, as deserving to be shot because he "refused to obey orders to stop and show his hands after police responded to a robbery call." WND also asserts that "witnesses" claimed that Ferrell was "drinking alcohol and smoking marijuana in the hours before he crashed his car" in the incident that led to his shooting. WND offers no source for the information, but it's Undermined -- and simultaneously gets a warrantless racial spin -- when WND adds that "The police chief, who is African-American, still has not released the results of the toxicology report."
WND also quotes "black radio" -- again, no source is provided for this information, or what exactly "black radio" means -- calling a woman who called police on Ferrell after she allegedly though he was trying to break into her house, a "racist b—-" guilty of a "hate crime."
But WND curiously ignores the fact that an investigation of the shooting by the police department Kerrick works for found the shooting to be "excessive":
"The evidence revealed that Mr. Ferrell did advance on Officer Kerrick and the investigation showed that the subsequent shooting of Mr. Ferrell was excessive," police said in a statement on September 14, the day of the shooting. "Our investigation has shown that Officer Kerrick did not have a lawful right to discharge his weapon during this encounter."
That would seem to be an important finding of fact that WND somehow found not to be newsworthy. But that's just another reason nobody believes WND.
Posted by Terry K. at 2:19 PM EST