WND's Farah Just Can't Stop Peddling Birther Lies
Topic: WorldNetDaily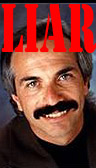 We know Joseph Farah is an unrepentant liar. He has proven once again that he can tell those lies repeatedly while thinking he can continue to get away with it.
In a Jan. 29 WorldNetDaily column aimed at the critics of his selective birther obsession -- it applies to Obama, not Ted Cruz -- Farah writes:
Now I have seen dozens of blog postings and "news stories" about my commentary, and they all pretty much say the same thing – suggesting or outright stating that I peddled a theory that Obama was born abroad. This is patently untrue.

In the hundreds of thousands of words I have written and spoken on this subject, I have never theorized Obama was born abroad.
Farah is telling a baldfaced lie, which he's trying to parse by saying he "never theorized" that Obama was born abroad. As we've documented, Farah has repeatedly touted a discredited claim that Obama's grandmother was born in Kenya, and the website he operates published a "Kenyan birth certificate" for Obama he couldn't be bothered to authenticate before publication (it was a fake).
Farah may very narrowly portray such claims as something other than "theorizing," but it's utterly dishonest for him to claim he never promoted the idea.
Farah also spends time rehashing more birther fantasies:
This is precisely why it was so important to pay attention to the precedent Obama set by refusing to release his birth certificate for two years and then releasing one that was labeled fraudulent by the only law enforcement investigators who have examined it, as well as dozens of document experts.
More lies. Obama released a legally valid birth certificate in 2008, one that even WND proclaimed to be "authentic" before it decided it was politically advantageous to do otherwise, thus forcing it to redefine "authentic" in an editor's note applied months after the fact.
As far as that investigation that found Obama's long-form birth certificate to be "fraudulent," that was manipulated into existence by WND, includes birther extraordinaire Jerome Corsi as a de facto "investigator," its finances and procedures are shrouded in mystery, and its conclusions have been discredited.
But Farah won't tell you any of that because, again, he is an unrepentant liar.
Farah's bamboozlement continues:
So what was my beef?

One problem has always been, and remains today, that we don't know where he was born because he has never released an unchallenged birth certificate.

A second problem remains that even if the birth certificate is accurate and authentic, it still leaves open the question of his "natural born citizen" status because it states his father was a Kenyan citizen, unable to confer "natural born citizen" status on his son.

A third problem is that his listed mother was unable to confer that status on her son because she was a minor – too young. She hadn't lived as a citizen in the country long enough. She later left for Indonesia and took her son with her to Indonesia where he was adopted by an Indonesian citizen.
First: Obama's birth certificate has been "challenged" only by people like Farah and Corsi who will never accept any documentation for Obama as legitimate.
Second: Farah has apparently forgotten that WND published an article admitting that the Constitution does not define "natural born citizen," and the Supreme Court has never weighed in. Thus, he cannot claim that Obama is ineligible because his father was not an American citizen.
Third: The idea that Obama's mother was "too young" to confer citizenship upon Obama is a clause that applies only to a child born abroad -- which Farah has never been able to prove he was.
But having spent years propagating a sleazy, partisan,, and completely false campaign of personal destruction for the sole purpose of making the birth certificate Obama's Vince Foster, Farah suddenly wants to wash his hands of it, declaring, "I really don't want to talk about Obama's eligibility any more."
Sorry, dude, that's not how it works. Until WND publishes the truth about the dishonesty of its birther crusade and apologizes for making years of false attacks, Farah does not get to walk away from the wreckage he created.
The only reason Farah is giving up the ghost now is because he has so ruined WND with perpetuating birther falsehoods that nobody believes it. If Farah wants people to trust his website, he needs to come clean.
But, again, Farah is an unrepentant liar, so the odds of that happening are pretty dismal -- even if the continued dishonesty forces WND out of business
Posted by Terry K. at 6:55 PM EST