D'Souza's Crime Not A 'Big Deal' To MRC's Bozell
Topic: Media Research Center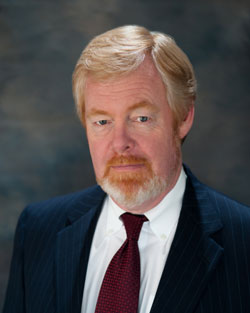 Brent Bozell used to care about the rule of law. For instance, in 1999 he praised "the House managers' principled advocacy of the rule of law" in the impeachment vote on President Clinton. In 2009, he asserted that "The Obama Administration acted in complete disregard of the rule of law" in the auto bailout.
But when it comes to crimes committed by conservatives, well, the rule of law doesn't matter so much. He is quoted opining on the arrest of Dinesh D'Souza for campaign finance violations in a Jan. 31 WorldNetDaily article:
"Let's assume Dinesh D'Souza is guilty, and I mean 100 percent guilty. What is he guilty of? Circumventing FEC dictates by directing [$15,000] to a Senate candidate of his choice. Big deal," Bozell told WND.

"First, in a multi-million Senate campaign, this is a fraction of a fraction. It 'buys' a can of soda pop, and that's about it.["]
That's right -- because a conservative broke the law, it's no big deal to Bozell.
Bozell goes on to equivocate D'Souza's offense with much worse ones allegedly committed by Presidents Clinton and Obama:
["]Second, and more importantly, compare this 'crime' with Bill Clinton, who raised millions of dollars from questionable at best, and illegal at worst sources, including felons and Chinese Communist generals. Compare it to Barack Obama, who raised millions upon millions from who-knows-who-or-where to this day. Nothing ever came of their fundraising abuses, abuses one thousandfold larger than anything attributed to D'Souza. And yet he was arrested and forced to post a $500,000 bond.

"It is astonishing. Given all the other abuses of power swirling around this administration, so many of them finding their origins in the 'Justice' Department, do I see deliberate persecution against conservatives? I am not conspiratorial by nature, but I will say unequivocally, you better believe it."
The fact that Bozell must equivocate away D'Souza's crime is a sign that he will not criticize another conservative for committing offense. Rush Limbaugh already knows about that right-wing benefit.
Posted by Terry K. at 10:20 PM EST