CNS' Hollingsworth Still Hiding Ideology Of Her Sources
Topic: CNSNews.com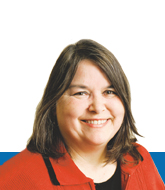 Barbara Hollingsworth apparently has no interest in being a good journalist -- she refuses to do something as simple as identifying the ideological bias of her sources. We've already caught her hiding the agenda of an anti-abortion, anti-contraception group, and she's still at it.
Here's the gist of Hollingsworth's Jan. 17 CNS article:
Economist John Goodman, who warned last October that Obamacare could plunge into a "death spiral" if not enough young, healthy people signed up for coverage, says that danger is now "significant" following news that the Obama administration failed to hit its young adult enrollment target.
"I think there is a significant problem here," Goodman, president and CEO of the National Center for Policy Analysis (NCPA), told CNSNews.com. "I think the insurers are worried. I think the administration is worried.

"Remember, everybody is facing the wrong price. And sick people are facing a price that's well below the cost of their care. Young healthy people are being overcharged. And so they need lots of young healthy people to join so they can get the money to pay the bills for the sick people. And the younger people just aren't buying it.
At no point does Hollingsworth explain what the NCPA is -- a right-wing think tank that claims to "develop and promote private, free-market alternatives to government regulation and control, solving problems by relying on the strength of the competitive, entrepreneurial private sector." And Goodman's NCPA blog on health policy is filled with attacks on Obamacare.
In other words, he's hardly an objective observer on Obamacare. And since Hollingsworth can't be bothered to seek out other points of view, her readers don't know that Goodman's claim of a "death spiral" is highly disputed.
The end of Hollingsworth's article contains a note that "The business and economic reporting of CNSNews.com is funded in part with a gift made in memory of Dr. Keith C. Wold." Is Wold rolling over in his grave knowing that his donation to the MRC is paying for such lazy, biased writing?
Posted by Terry K. at 12:01 PM EST