MRC's Bozell Is Angry That Christie Scandal Is Getting Covered
Topic: Media Research Center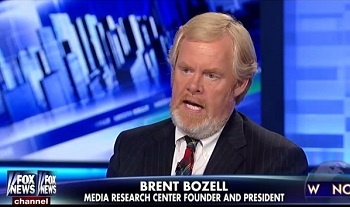 The Media Research Center has used dishonest data to attack news coverage of Chris Christie's Bridgegate scandal, so we know where the MRC stands.
A Jan. 21 NewsBusters post by "NB Staff" continues the dishonesty, obsessing over how much time the three broadcast networks have spent on new allegations from the mayor of Hoboken, N.J., that Christie withheld Hurricane Sandy relief aid tothe city for political reasons:
The charges from Mayor Zimmer began on MSNBC's "Up With Steve Kornacki," and he spent all four hours of his weekend airtime obsessing about Bridgegate. The new allegations were featured on NBC Nightly News and Today from Saturday night to Monday morning -- ten segments in all (including news briefs), totaling more than 20 minutes of airtime.

ABC's Good Morning America ran full stories on Sunday and Monday, plus coverage on Sunday's World News (4 segments, totaling more than 6½ minutes). CBS, whose weekend newscasts were pre-empted by sports, did not pick up the story until Monday's CBS This Morning, which added nearly 3 minutes to the network totals. Overall, coverage on the Big Three morning and evening newscasts since Saturday evening: 30 minutes, 6 seconds.
Note that Fox News, as usual, is completely absent from the MRC's analysis. That's because Fox has largely ignored the allegations even though it's a 24-hour news network.
The NewsBusters post also promotes a Fox News appearance by MRC chief Brent Bozell calling coverage of the Hoboken allegations "out of control." Bozell didn't mention Fox's lack of coverage -- if he did, he might lose his weekly slot on Sean Hannity's Fox News show. And publicity is much more important to Bozell than the truth.
Posted by Terry K. at 11:24 PM EST