For MRC's Graham, Medically Accurate Term Is An 'F-Bomb'
Topic: NewsBusters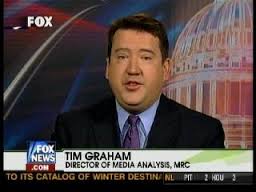 The headline on Tim Graham 's Jan. 15 NewsBusters post read, "New York Times Story from Texas Repeatedly Drops the F-Bomb: 'Fetus'." Graham wrote:
The New York Times spent months debating before deciding not to ban the term "illegal immigrant" entirely (it's simply discouraged), but the word "fetus" is used without any alarm. At the top of page A-14 on Wednesday is the headline "Suing to End Life Support for Woman and Fetus."

It's an update on the sad story of Marlise Munoz, who is on life support and whose family wants her and her baby removed from life support. The F-bomb (to pro-life people) was dropped three times in the Manny Fernandez story, in addition to the headline[.]
Yes, medically accurate terminology is the equivalent of a swear word in Graham's world.
At the end of his post, Graham linked to a 2008 rant by his boss, Brent Bozell, demanding that the word "fetus" be banned because it is allegedly a "humanity-negating" word. Like Graham, Bozell does not mention the term's medical accuracy (though he does concede that it has a "dictionary definition").
Neither Graham nor Bozell make any mention of the humanity-negating properties of the right-wing term "illegal alien." Or how they have a double standard on being politically correct word police.
Posted by Terry K. at 11:18 PM EST