Fred Fleitz Doesn't Understand Journalism
Topic: Newsmax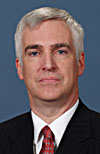 Fred Fleitz devotes a Jan. 2 Newsmax column to freaking out about the New York Times' series disproving right-wing claims about the Benghazi attacking, in particular its noting that the Times had a reporter on the ground who was "talking to the attackers during the attack":
This raises several serious ethical questions.

Why was this information withheld for 15 months and not published in September 2012?

Are there ethical guidelines for Times reporters that would bar them from being embedded with terrorists in the act of conducting a terrorist attack? How could a reporter stand by and watch a U.S. Embassy be attacked and burned?

Didn't this reporter and the Times have a moral obligation to immediately contact U.S. officials about the attack? Did the reporter have a cell or satellite phone that he could have used to alert U.S authorities or his New York Times editor in New York?

What does this reporter know about the death of Ambassador Stephens? Has he told Congress what he knows?
As Media Matters detailed when Fox News anchors made the same claim, Fleitz's attitude demonstrates a lack of understanding of how journalism works or the facts on the ground at the time of the attack:
War reporters and groups that represent them say that the Fox critique shows a fundamental lack of understanding of the role of journalism, particularly during dangerous conflicts.

"When you're in the middle of a riot or an attack like that, first of all, it is not a reporter's job to call the authorities and he would have to assume the authorities know about it. It seems so bizarre," said Josh Meyer, director of education and outreach for the Medill National Security Journalism Initiative and a former Los Angeles Times national security reporter who has reported from Afghanistan, Saudi Arabia and Pakistan.

Sonya Fry, executive director of the Overseas Press Club, an association for foreign correspondents, agreed. "The job is to be an eyewitness and report on what they see, sometimes the consequences of that are that help arrives. It is not their job to call in the ambulances," said Fry. "Their job is to report. It is a sad state of affairs that people don't understand what journalists do these days."

Other war correspondents pointed out that it's unclear who the Times reporter could have called for help. As the series makes clear, Libyan militia leaders who were alerted as the attack unfolded refused to aid the Americans, Libyans who did seek to help were turned back by the attackers, while U.S. forces in Tripoli were quickly alerted. No help arrived until long after the first stage of the attack had concluded.
Nevertheless, Fleitz asserts that "there clearly is a New York Times editorial/newsroom conspiracy here."
Posted by Terry K. at 11:17 PM EST