Newsmax Won't Admit Limbaugh Is Wrong about Polar Vortex Being a 'Hoax'
Topic: Newsmax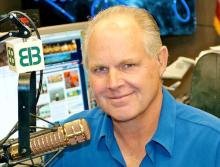 A Jan. 7 Newsmax article by Amy Woods touts how Rush Limbaugh claimed that "the polar vortex is 'a hoax' perpetuated by the liberal media to further its agenda of climate change and global warming." What Woods didn't mention: Limbaugh is wrong.
AccuWeather senior meteorologist Bernie Rayno points out that the polar vortex is, in fact, a real thing: "We've been using the name in this field for — I've been in this field for 25 years, this isn't anything new. ... Usually meteorologists would never even use that term because people wouldn't understand it."
It seems that Newsmax is just as scared as CNSNews.com to tell its readers that Limbaugh was spreading a lie.
Posted by Terry K. at 3:14 PM EST