CNS' Jeffrey Unhappy That ENDA 'Bans Discrimination Against Cross-Dressers'
Topic: CNSNews.com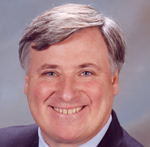 As far as CNSNews.com editor in chief Terry Jeffrey is concerned, the proposed Employment Non-Discrimination Act is all about cross-dressers. He devotes a Nov. 4 article freaking out about it:
The Employment Non-Discrimination Act, which will come up for a cloture vote in the Senate today, mandates that employers in the United States permit men to dress as women at work and women to dress as men as long as they otherwise adhere to "reasonable dress or grooming standards."

[...]

Section 8 of the proposed law specifically states that employers must permit workers who either have undergone "gender transition" or are "undergoing" a "gender transition" to dress and groom themselves according to the gender to which they have transitioned or are transitioning.
Jeffrey goes on to complain that "The proposed law does not define what 'gender transition' means."
If all that Jeffrey can muster against ENDA is tired transgender scare tactics, it's a sign of how bankrupt his employer's anti-gay agenda is.
Posted by Terry K. at 9:45 PM EST