MRC's Bozell Makes Himself Ken Cuccinelli's Campaign Flack
Topic: Media Research Center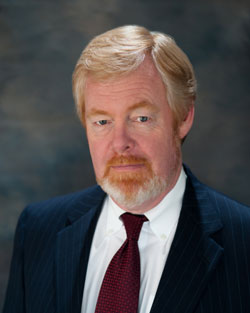 Brent Bozell uses his Oct. 30 column to serve as the campaign spokesman for Republican Virginia governor candidate Ken Cuccinelli (even though such explicit partisan advocacy probably runs afoul of the Media Research Center's nonprofit status). And like any good campaign hack, Bozell twists facts and peddles distortions to the benefit of Cuccinelli and the detriment of his Democratic opponent, Terry McAuliffe.
Bozell huffs that "McAuliffe is running a transparently, viciously anti-Catholic campaign all over television, trashing Cuccinelli as a woman-hating extremist for backing proposals that line up with Catholic church teachings on abortion, contraception, and divorce. Any reporter with fifteen minutes to kill can discover that." But shouldn't Cuccinelli be aspiring to be the governor of all Virginians instead of just the Catholic ones. And what moral authority does Cuccinelli have to impose his religious agenda on those who don't share his religion?
Bozell continues:
In the D.C. area, TV viewers are inundated with McAuliffe ads where the Democrat claims "Ken Cuccinelli tried to ban common forms of birth control." Women echo: "Even the pill! Even the pill!" Then four people echo, one after the other, he's "way too extreme for Virginia." McAuliffe supporters in the "NextGen PAC" even accused Cuccinelli of "wanting to eliminate all forms of birth control."

Cuccinelli has never supported a bill or taken a campaign stand for banning contraceptive pills, and McAuliffe knows it. In 2007, then-state Sen. Cuccinelli supported a "personhood" bill that simply stated "Life begins at the moment of fertilization." Abortion advocates have twisted that simple sentence into some kind of church invasion of the state.
Note the word-twisting going on there -- Bozell is denying an accusation nobody has made. Nobody said that Cuccinelli "supported a bill or taken a campaign stand for banning contraceptive pills." But Bozell is hiding the fact that the "personhood" bill Cuccinelli supported could have had the same effect. PolitiFact broke down Bozell's evasive claim when Cuccinelli himself made it:
While he's never cast a vote on legislation that explicitly restricted birth control options, Cuccinelli for a decade has been one of the strongest anti-abortion voices in Virginia. He's supported personhood bills that recognized life as beginning at the moment of conception or fertilization and bestowed human embryos with legal rights. The American College of Obstetricians and Gynecologists says such legislation could outlaw birth control pills and other forms of contraception that prevent a fertilized egg from implanting in a uterus.

Cuccinelli's wording also allows him to gloss over a vote he cast in 2003 against legislation that would have specified contraception does not constitute an abortion.
Bozell also wrote:
In another ad, McAuliffe trashed another of Cuccinelli's Senate proposals: "2008: Ken Cuccinelli writes a bill to give Virginia among the most extreme divorce laws in America. If Cuccinelli had it his way, a mom trying to get out of a bad marriage, over her husband's objections, could only get divorced if she could prove adultery or physical abuse or her spouse had abandoned her or was sentenced to jail. " In another ad, a woman claims "He tried to change Virginia's divorce laws to prevent women from getting out of a bad marriage."

This is why people despise political ads. McAuliffe's painting Cuccinelli as if he had proclaimed his biggest goal in life was to prevent women from divorcing abusive husbands. Cuccinelli offered a bill against no-fault divorce, but it was gender-neutral and designed to make it tougher for parents to get divorced quickly. Childless spouses were unaffected.

"Studies show that the dissolution of marriage has long term negative impacts on children and those marriages that last for five years are much more likely to go the distance," he wrote. "For this reason, the state has an interest in marital preservation." Here again, the media and the feminists justify these wild exaggerations by noting Cuccinelli is friendly with "father's rights" activists. Men have rights when it comes to their children? Horrors!
Bozell leaves out some important facts -- namely, that as the Washington Post pointed out, "under Virginia's current law, there's no such thing as a quickie divorce." The Post continues:
McAuliffe's ad, designed to take advantage of a gender gap in the race, emphasized the impact of this shift from the perspective of the woman. For instance, here's what the state of Virginia says about proving adultery: "Proving adultery is very fact-specific. The evidence must be strict, satisfactory and conclusive that the other spouse did in fact engage in sexual relations with another person." So if a no-fault divorce is not available, that's the burden that a woman wanting a divorce would need to climb if Cuccinelli's proposal had become law.
Bozell also portrays the "father's rights" movement that supported Cuccinelli's proposed elimination of no-fault divorce as some benign group. According to the Post, Cuccinelli's proposal won support from one specific father's rights activist, Stephen Baskerville.
If that name sounds familiar, it should. In September, we noted that WorldNetDaily was promoting a speech by Baskerville at the homeschooler-friendly Patrick Henry College, where he criticized "the system of unilateral and involuntary divorce, government's purpose-built mechanism for dismembering families, seizing control over the private lives of innocent people and their children, summarily confiscating property,and criminalizing the embodiments of the hated 'patriarchy': fathers."
One blogger reported that Baskerville used his speech to engage in denialism of basic concepts like rape, child abuse and domestic violence, and was "eavy on 'bitches be lying' and light on scripture."
The "father's rights" movement is a part of the men's rights movement, and it is mostly driven by "divorced men angry that their ex got custody of the kids, and now they have to fork over money to support them."
It seems that Bozell is so concerned about flacking for Cuccinelli that he has no idea what he's arguing in favor of. Or maybe he does, and he actually supports the retrograde "father's rights" stuff.
Posted by Terry K. at 11:36 AM EDT