MRC Hides Conservative's Endorsement Of Redskins Name Change
Topic: Media Research Center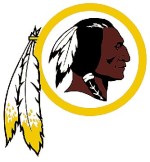 The Media Research Center got all huffy over the past few weeks as more people argued that the Washington Redskins is a name that is somewhere between insensitive and racist and should be changed:
NewsBusters' Tom Blumer grumbled that the Associated Press did "an 880-word writeup on this breathtakingly important subject" of President Obama's opinion on changing the team name.

Matt Philbin ranted: "Well Redskins fans, it's over. The ruling has been handed down from on high – The Washington Post and USA Today. They've got a foam finger for you, but it's not the index and you're certainly not #1 to them, and they're the ones who matter. They've decided your team name will change."
Tim Graham complained that the Washington Post did an article on an online contest to pick a new team logo.
Philbin did more ranting, declaring that the Post "has dedicated at least 31,562 print and online words to its crusade" and wants to be "the paper that brought down a mascot."
MRC chief Brent Bozell decried the "liberal media agitation" for changing the name, howling: "The word 'Redskins' is so apparently offensive they've made the team sound like a porn film. Here is the insanity: They'd be less offended -- and in some circles of the libertine community, openly supportive – if Snyder renamed the team the 'Foreskins.'"
Graham complained further that sportscaster Bob Costas expressed his opposition to the name, which he dismissed as "another liberal rant with no rebuttal."
But changing the name is not just a liberal idea -- but the MRC won't tell you that.
Conservative commentator Charles Krauthammer -- normally a friend to the MRC -- opined on Fox News that while he's "in low dudgeon over this," he supports changing the name because the word's meaning has evolved: But if it were personally my choice, I think it's over the line. I do think, because of its history, it's something that if you can change, you would change."
Krauthammer expanded on his views in his Washington Post column:
This is a matter of usage — and usage changes. If you shot a remake of 1934's "The Gay Divorcee," you'd have to change that title too.

Not because the lady changed but because the word did.

Hail Skins.
Strangely, Graham has not seen fit to attack Krauthammer for this view the way he did Costas. Then again, the MRC did give Krauthammer its "William F. Buckley Jr. Award for Media Excellence" last month with special praise for "his trenchant dry humor and perfectly-timed zings at various liberals in the media."
Krauthammer offered none of that in his support for changing the Redskins' name, apparently, so down the MRC memory hole it went.
Posted by Terry K. at 10:29 PM EDT