Newsmax's Kerik Image Rehab Continues, Minus The Whitewashing
Topic: Newsmax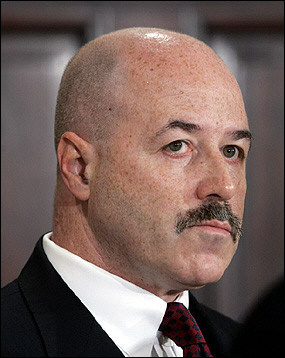 When Bernard Kerik was released from prison in May, Newsmax -- which spent a lot of time on Kerik's image rehabilitation before the former New York City police chief pleaded guilty to charges that sent him to prison for more than three years -- was all ready to reboot the image rehab project.
However, Kerik is using his time on the other side of the criminal justice system to push for sentencing and prison reform. That's adjusting Newsmax's rehab project a little.
A Nov. 1 Newsmax article by Jim Meyers touts Kerik's appearance on the "Today" show as part of Kerik's new crusade:
As New York City police commissioner, Bernard Kerik was ultimately responsible for the incarceration of many criminals.

Now that he has seen the prison system from the inside, having served three years behind bars, he has a new appraisal of the U.S. penal system: "insane."

In his first interview since his release from prison, where he served time for tax evasion and lying to federal authorities, Kerik told NBC's Matt Lauer on the Today show Friday: "No one in the history of our country has ever been in the system with my background.

"You have to be on the other side of the bars. You have to see what it's like to be a victim of the system. There's no way to do that from the other side.

"If the American people and members of Congress saw what I saw, there would be anger, there would be outrage, and there would be change, because nobody would stand for it."
Since Kerik's prison stint is a key part of his new crusade, Newsmax has little choice but to go along with it, minus the whitewashing it has done in the past:
Commissioner Kerik rose to national prominence following the 9/11 attacks in New York, and in 2004, President George W. Bush nominated him to head the Department of Homeland Security.

Kerik soon withdrew his name from consideration, citing the past employment of an illegal immigrant as a nanny. He later admitted accepting $165,000 worth of free renovations to his apartment from a construction company. In 2009, he pleaded guilty to eight counts, including tax evasion and lying to the White House, and was sentenced to four years in jail.

Kerik was released after three years at a federal prison in Cumberland, Md., and served the remainder of his term under home confinement, which ended last month.
If nothing else, Newsmax has certainly been loyal to Kerik. That loyalty continues with whatever narrative Kerik chooses to push.
Posted by Terry K. at 9:30 PM EST