WND's Ellis Washington Drops The Pretense About Likening Obama to Nazis
Topic: WorldNetDaily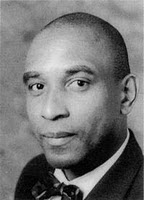 WorldNetDaily's Ellis Washington loves to liken President Obama to Nazis while denying he's doing any such thing. Surprisingly, he didn't even bother with the disclaimer before stone cold going Godwin in his Oct. 25 column:
Historically, there are noted similarities between National Socialism and Democratic Socialism – both movements are totalitarian revolutions led by a charismatic, god-like messiah who places himself beyond correction or the rule of law; both use the power of the Leviathan State to amass unconstitutional powers unto themselves – for example, the Nazis burned down the Reichstag (Parliament), blamed it on the communists and used this power vacuum to eventually combine Hitler's chancellorship with the presidency, leading directly to new tyrannical powers Hitler used to launch World War II and establish the Gestapo, the SS, concentration camps and the Holocaust. Also during World War II, the American left under FDR used dozens of "internment camps" to imprison hundreds of thousands of law-abiding Japanese, Italian and German American citizens without due process.

Today President Obama freely and arrogantly uses the vast machinery of government – NSA, IRS, EPA, Homeland Security, the Justice Department and HHS – for example, to force Obamacare to deconstruct the greatest health-care program in the world, to spy on us and to punish his enemies both foreign and domestic. Both socialist philosophies hate (practicing) Jews, Christians, Catholics, conservatives, tea-party members, capitalism, the church, the Bible and a free media. Progressives love to crush all dissenting voices, to systematically deconstruct societal morality by any means necessary.
It seems that Washington has taken our advice about dropping his pretense and not lying about his Godwinism. Now, if we could just do something about his pretending to be Socrates ...
Posted by Terry K. at 12:08 AM EDT