NewsBusters Still Pretending Redskins Name Change Is A 'Liberal' Cause
Topic: NewsBusters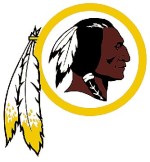 Paul Bremmer devotes an Oct. 28 NewsBusters post to bashing New York Times sports columnist Bill Rhoden for saying that a name change for the Washington Redskins "has to start with us in the media," declaring this to be "liberal activist journalism":
Wow. Rhoden actually wants legislation to compel the Redskins, a privately-owned venture, to change their name. That would be government coercion on the level of ObamaCare. But as it stands right now, it's up to owner Daniel Snyder to change the name, and he has said he doesn't want to change it.

To those who follow the liberal media, it's not news that they are fans of political correctness. But it's a little jarring to hear a journalist talk as if it is the media's job to force political correctness onto one particular organization, possibly under penalty of law. What happened to just reporting on the facts?

[...]

This was not the first time Rhoden mixed sports with liberal activism. Last December, he expressed his wish that the NFL would ban its players from owning guns. In April 2011, he called for the NBA to suspend Kobe Bryant for Game 1 of a playoff series after Bryant mouthed the "gay F-bomb" at a referee.
Following what is apparently Media Research Center policy, Bremmer failed to mention that one prominent advocate of changing the Redskins name is not a liberal at all -- he's conservative commentator Charles Krauthammer, whom the MRC honored with its "William F. Buckley Jr. Award for Media Excellence" in September.
If we were as careless with the English language as the MRC, we could say that it was censoring this relevant fact.
Why is the MRC so afraid to tell its readers about Krauthammer's advocacy for changing the Redskins name? Perhaps because it would then have to admit it's not a "liberal" issue.
Posted by Terry K. at 10:22 PM EDT