MRC Is Still Defending Dick Cheney
Topic: Media Research Center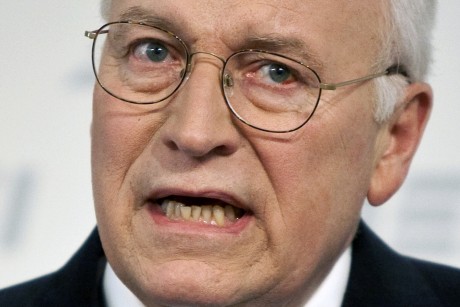 Brad Wilmouth takes us back into time in an Oct. 29 Media Research Center item:
On Monday's PoliticsNation, MSNBC host Al Sharpton bizarrely devoted his regular "Nice Try" segment to Dick Cheney denying that he and Wyoming Republican Senator Mike Enzi are "fishing buddies," which the former Vice President did on Sunday's ABC This Week during a discussion of daughter Liz Cheney's bid for the Senate.

As he mocked the former Vice President, Sharpton managed to bring up the Iraq invasion and repeated the false assertion from the left that Cheney had claimed Iraq should be invaded because an Iraqi agent met with one of the 9/11 hijackers. Sharpton: "Is Cheney finally admitting that a 9-1-1 bomber didn't meet with an agent of Saddam Hussein? Cheney used that meeting to justify the Iraq invasion even though it didn't happen."

Sharpton was alluding to a series of edited clips from four interviews the former Vice President gave on NBC's Meet the Press which liberal entities like MSNBC promoted in 2004 to make it appear that Cheney had claimed that Iraq was involved in the 9/11 attacks.

In reality, in each case, Cheney was answering a question from then-host Tim Russert about whether there were links between the 9/11 hijackers and Iraq. The then-Vice President informed viewers that a Czech intelligence agent had claimed that he observed one of the 9/11 hijackers meeting with an Iraqi intelligence agent in Prague, but also noted that there was debate whether the account was true.
Well, if Cheney couldn't prove it, why repeat the claim in the first place? Shouldn't Cheney have waited until the claim was definitively proven before repeating it in public?
As Wilmouth noted, Cheney made the claim four different times, which seems to indicated that there was an agenda behind doing so -- namely, justifying U.S. involvement in Iraq. And Cheney was still repeating it even after it had been all but discredited. Doesn't that indicate a pro-Iraq War agenda as well?
The evidence seems to indicate that Cheney wanted to tie Iraq to the 9/11 attacks. Wilmouth, however, seems to want to take refuge in Cheney's disclaimers to ignore the fact that if such disclaimers were necessary, Cheney should have never made the claim public.
Posted by Terry K. at 9:48 PM EDT