Let Newsmax's Kerik Rehabilitation Project Resume
Topic: Newsmax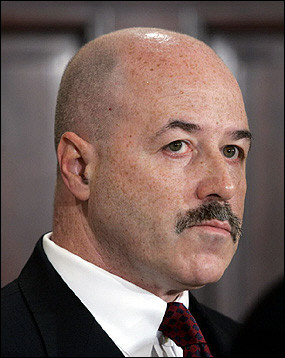 Now that Bernard Kerik has been released from prison, Newsmax appears to be taking that opportunity to kickstart its reputation rehabilitation project for him.
A May 28 Newsmax article by Paul Scicchitano informs us that Kerik was "the highly-decorated police commissioner of New York City during 9/11" and was "catapulted to national hero status for his service on September 11, 2001 along with his then-boss, 'America's Mayor' Rudy Giuliani."
It's not until the fourth paragraph -- after the above flattery -- that Scicchitanogets around to noting the reason Kerik was in prison in the first place: "he pleaded guilty to tax fraud and lying to authorities over $250,000 worth of free renovations done to an apartment he owned in the Bronx, NY."
Then, it's back to Kerik-fluffing, with Scicchitano noting how the "street-smart" Kerik "bagged more than 100 awards, including one of the police department's highest awards, the Medal of Valor, a commendation from President Reagan himself, and an honorary appointment as commander of the British Empire from Queen Elizabeth II." Scicchitanoeven highlighted how "Kerik was planning to celebrate his first evening of freedom with his family and more than a dozen pals with a 'robust feast' of beef short ribs, shrimp scampi, fresh mozzarella, and brownies provided by Brownstone caterers, owned by Al Manzo and his wife Caroline of 'The Real Housewives of New Jersey.'"
Newsmax has long been an aggressive booster of Kerik, to the point of downplaying the corruption charges he faced and trying to build him into a credible spokesman on terror issues. That was rudely interrupted by Kerik's guilty plea, though that didn't stop Newsmax from portraying him as a victim.
Posted by Terry K. at 10:38 AM EDT