MRC's Bozell Is Still Offended That There Are Gays On His TV
Topic: Media Research Center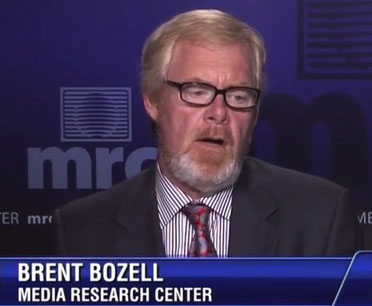 The Media Research Center has always had issues with gays on TV -- i.e., its complaint that "Modern Family" commits the atrocity of letting you sympathize with gay characters. (The horror!)
MRC chief Brent Bozell, who we last saw in this particular arena dancing on the grave of "The New Normal," uses his Oct. 25 column to express outrage that gay characters are even allowed to be on TV while gay-bashers aren't:
The Gay and Lesbian Alliance Against Defamation (GLAAD) has issued a new report boasting that "TV hasn't merely reflected the changes in social attitudes; it has also had an important role in bringing them about. Time and again, it's been shown that personally knowing an LGBT person is one of the most influential factors in shifting one's views on LGBT issues, but in the absence of that, many viewers have first gotten to know us as television characters."

If network executives were honest, they'd be slamming this report. If. Haven't they routinely insisted that TV shows have zero effect on the audience? That's their constant mantra when defending sex and violence on TV. They're silent. They know exactly how much they influence.

GLAAD and The Hollywood Reporter commissioned a poll last fall that found in the past 10 years, about three times as many voters have become more supportive of "marriage equality" (31 percent) as more opposed (10 percent). When asked how television has influenced them, 27 percent said "inclusive" TV shows made them more "inclusive," while six percent were more "anti-marriage equality."

[...]

In the 2012-13 TV season, GLAAD found a record number of LGBT characters — 4.4 percent, or at least double their actual percentage of the population. Fox was honored for having these characters in 42 percent of their programming hours — although that wasn't enough for "Excellent" status, merely "Good."

[...]

They want children indoctrinated as well. GLAAD is also not shy when it comes to Teen Nick, Cartoon Network and the Disney Channel. Apparently, children also desperately need the propaganda of gay characters in 42 percent of programming hours. They're extremely happy with the liberalism of "ABC Family" and have relayed that Disney Channel executives promised GLAAD they will "introduce LGBT characters in an episode of its original series 'Good Luck Charlie' set to air in 2014, a first for the network." The first of many, they expect.

Here's the catch: Gay characters never face any real opposition to the gay agenda on these so-called "inclusive" programs. There is no measure of Orthodox religious inclusion and no real debates. The victory of the left is assumed without thinking. When a conservative character is created — like Ellen Barkin's "Nana" in "The New Normal" — it's a vicious cartoon, the kind that those "against defamation" folks deeply enjoy.
More ridiculous than Bozell's gay-bashing, however, is the MRC's response to criticism of it. TimGraham writes in an Oct. 27 NewsBusters post:
Brent Bozell's latest culture column has spurred anger from the so-called Gay and Lesbian Alliance Against Defamation. The entertainment site Variety.com reports GLAAD advocate Wilson Cruz – who played a troubled gay teen on the ABC flop "My So-Called Life" in 1994 – found it "laughable," "ridiculous," and "misleading" for Bozell to ask for some kind of a debate on gay issues on TV, instead of the propaganda-fest we see routinely these days.

Borrowing the language of Orwell, Cruz said one-sided propaganda is "an accurate reflection of the American cultural fabric, which no longer accepts this kind of bigotry."
Given that the MRC wants one-sided anti-gay propaganda of its own, Graham playing the "propaganda" card is hypocritical. And Graham offers no evidence to contradict GLAAD's claim that "the American cultural fabric ... no longer accepts this kind of bigotry." Of course, to do that, he would have to find a polling example outside the MRC offices, where the Bozell-enforced anti-gay agenda reigns supreme.
Posted by Terry K. at 8:46 PM EDT