Joseph Farah Lies Again
Topic: WorldNetDaily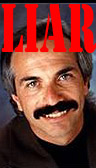 One statement stood out to us in Joseph Farah's Oct. 27 WorldNetDaily column:
When I'm wrong I admit it.
I'll pause for a bit while you laugh hysterically.
OK.
Farah's statement, of course, is a bald-faced lie. We've compiled a whole column of falsehoods Farah has told that he has yet to admit, much less correct.
And even when Farah and WND admit errors, it's usually a protracted battle to get to that admission. The most egregious example of this is WND spending seven years fighting a libel and defamation lawsuit from a Tennessee car dealer whom WND claimed was a "suspected drug dealer," before abruptly settling the lawsuit out of court just before it was to go to trial, admitting that the claim was completely false and reaching a secret settlement that WND has refused to disclose to its readers.
Farah and WND admit no wrong until they're forced to, by threat of lawsuit or getting caught in such a massive boner they have no other choice.
We'd ask Farah to correct his claim to reflect reality, but we already know his record on such things.
Posted by Terry K. at 12:22 AM EDT