Which Part Of His Radical Left-Wing Past Is Joseph Farah Lying About?
Topic: WorldNetDaily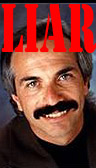 Joseph Farah is quite a shameless and aggressive liar, so it's not a surprise that he would embellish his own past. He writes in his Oct. 23 WorldNetDaily column:
I officially became a Republican in 1982.

Two years earlier, I voted for Jimmy Carter for president for the second time.

But, more importantly, in the 1960s and 1970s, I was a stone cold radical leftist – literally working shoulder to shoulder with the likes of revolutionary terrorists Bill Ayers and Bernardine Dohrn and whacked out traitors Tom Hayden and Jane Fonda.
"Literally working shoulder to shoulder"? That's not what he's said previously on the subject. In a 2012 column he wrote:
During the euphemistically named "Indo-China Peace Campaign" organized by Tom Hayden and Jane Fonda, I was given the "honor" of serving as a body guard for Fonda, recently returned from North Vietnam where she posed for photographs sitting in an anti-aircraft emplacement meant to shoot down American planes.

I was recruited for terrorist attacks such as blowing up chemical plants by older radicals who didn't have the courage to do it themselves. (I thank God today I never followed through on these plots.) I wrote for some of the most left-wing periodicals in America — the Guardian, the Liberated Guardian and more.

And my reputation preceded me. Even after college, when my views had moderated considerably, I was invited to meet Bill Ayers and Bernardine Dohrn, who were still underground for their own acts of domestic terrorism.
Serving as a bodyguard for Fonda and merely meeting Ayers and Dohrn? That's not exactly the "literally working shoulder to shoulder" Farah now claims. It seems Farah has decided to embellish his former left-wing cred.
Or is it the other way around? It could be that Farah was lying before and is telling the truth now. If he really was "literally working shoulder to shoulder" with Hayden and Fonda and Ayers and Dohrn, that means he may have been lying about not committing terrorist attacks.
Whatever the truth is, the one thing we know for sure is that Farah is lying about his past. And if he's willing to do that, there's no reason to trust anything that appears on a "news" website Farah operates.
Posted by Terry K. at 12:21 AM EDT