At CNS, A 29-Year-Old Quote Is 'News'
Topic: CNSNews.com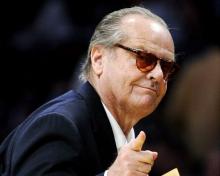 CNS has a peculiar idea of what constitutes "news." First it was jokes from late-night comedians, then it was snide attacks from right-wing pundits.
Now it's ancient quotes from a celebrity. Here's how a Sept. 4 CNS article by Michael W. Chapman begins:
Hollywood legend Jack Nicholson, 76, who is retiring from movies it was reported today, is, unlike many liberals in Tinseltown, a staunch pro-lifer who said in a 1984 interview about abortion, "I'm positively against it. I don't have the right to any other view."
And, yes, the rest of the article is all about what Nicholson said about abortion 29 years ago.
Funny, we thought conservatives believed celebrities were supposed to shut up and sing or whatever. Apaprently, if you're conservatively correct, you're allowed to say whatever you want. Indeed, CNS publishes columns by Charlie Daniels, who clearly has not been told by Chapman to shut up and sing.
Posted by Terry K. at 7:13 PM EDT