Newsmax's Gizzi Tries to Claim MLK For Republicans
Topic: Newsmax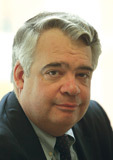 CNS' Terry Jeffrey is not the only right-winger who's trying to claim Martin Luther King Jr. for conservatives. Newsmax's John Gizzi joins the party in a Sept. 1 article pushing the idea that King was a Republican:
It is impossible to know whether King was Democrat, Republican, or independent. His home state of Georgia did not have registration by party, so allegiance to a political party depended on which primaries a voter chose to cast a ballot in.

The Atlanta pastor kept this to himself. His choice of primaries to vote in is not known and, as the intellectual force the civil rights cause, King carefully avoided embracing political candidates.

But there is some evidence as to where his party leanings were, including the observations of the Republican who was Martin Luther King's congressman.

"I believe Dr. King was a Republican," Fletcher Thompson, who represented the Atlanta area in Congress from 1966-72, told Newsmax. "Most of the blacks in the late 1950s and at least up to 1960 were Republican. Our party was sympathetic to them and the Democrats were the ones enforcing 'Jim Crow' laws and segregation."
But, as Gizzi later concedes, Thompson "never personally met King." That, of course, doesn't keep Gizzi from using Thompson to suggest King's political leanings, even as he goes on to admit that "Republican orators increasingly denounced" King for his "embrace of the anti-Vietnam War movement and his friendship with the far left."
Posted by Terry K. at 1:48 AM EDT