Another Sketchy Figure Endorses Farah's 'Day of Prayer And Repentence'
Topic: WorldNetDaily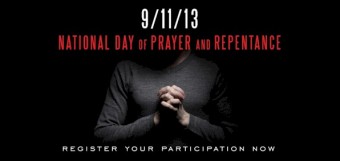 We've detailed the rogue's gallery of fringe figures who have endorsed WorldNetDaily editor Joseph Farah's 9/11 "Day of Prayer and Repentence." Add another one to the list.
An Aug. 31 WND article by Scott Greer details how "Carl Gallups, author of 'The Magic Man in the Sky' and the coming WND Books release 'The Rabbi Who Found the Messiah," says America is "on the precipice of no return'" ... as he endorsed the 9-11-13 National Day of Prayer and Repentance, which was prompted by a commentary from WND founder and CEO Joseph Farah." Greer continues:
He said the choices America has made are alarming.

"We … have destroyed the lives of tens of millions of American babies. In the same year the Supreme Court declared abortion to be legal (1973), we passed the Federal Endangered Species Act. In that year we declared that a turtle's nest and a turtle's egg were more precious and sanctified than a human baby within its mother's womb," Gallups noted.

He's also concerned about the growing acceptance of same-sex marriage and the homosexual culture.

"Our Supreme Court has, in effect, declared that we do not know what constitutes a real marriage. Men are marrying men, women are marrying women, and our military and society at large are openly celebrating the sodomite lifestyle. The New Testament book of Romans, chapter one, declares that when these things happen it is a certain sign that God has 'given them over to a depraved mind,'" Gallups commented.
Speaking of depraved minds, Gallups arguably is one. He's the mastermind behind PP Simmons, the "online ministry" that's little more than an anti-Obama propaganda mill. Through PP Simmons, Gallups has promoted the idea that Obama is the Antichrist, and he has pushed numerous birther claims. Gallups once used his radio show to invite any "Obot" to call in and prove that Obama is a citizen; when one did, Gallups cut him off.
We will assume that Gallups will not be repenting any of his dishonest, reprensible behavior on the day he's endorsing.
Posted by Terry K. at 3:29 PM EDT
Updated: Wednesday, September 4, 2013 7:04 PM EDT