WND's Farah Misses The Point On Its Impeachment Profiteering
Topic: WorldNetDaily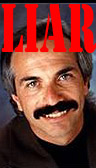 Joseph Farah begins his Aug. 30 WorldNetDaily column this way:
You may not have noticed, but the semi-official government press really is taking the traditional watchdog role seriously.

Oh no, not as a watchdog on the government.

Not as a watchdog on waste, fraud, abuse and corruption in high places.

Not as a watchdog on corrosive and powerful institutions.

I mean they watch WND like hawks.
Farah goes on to complain that other news outlets have written stories about WND's new "Impeachment Store," mocking his critics for exposing "my scheme to enrich myself through this jaded scheme of profiteering off the outrage of millions of Americans over the conduct of the most un-American president in history."
But Farah (perhaps deliberately) misses the point. The question his activities raise is not one of money-making but of journalistic integrity.
As we've documented, Farah is using the same tactics against Obama as he did in the 1990s against President Clinton by promoting conspiracy theories about the death of Vince Foster. But unlike then -- when Farah used a nonprofit group as a front for his Clinton-bashing -- Farah heads the for-profit WND, and thus is in a position to make much more money off his anti-Obama activism than he did off his anti-Clinton activism.
This raises the likelihood that Farah will keep any anti-Obama story alive in order to sell more anti-Obama tchotchkes to his readers. Indeed, he has already demonstrated his willingness to do so by forbidding any contradiction of its birther conspiracies to be reported at WND.
By the same token, while WND has heavily promoted Aaron Klein's new anti-Obama book advocating impeachment, WND has not published any rebuttals of Klein's pro-impeachment arguments. Presumably, that's because he doesn't want to undermine sales of a book he's publishing. In other words, he has a motive for putting his own personal wealth ahead of journalism, and he is apparently doing so.
And, as always, Farah is thin-skinned about the truth being told about him and his "news" website.
Posted by Terry K. at 12:30 PM EDT