Ilana Mercer Pushes WND's Race-Baiting Agenda
Topic: WorldNetDaily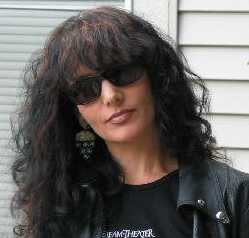 As befits someone who kinda misses apartheid, WorldNetDaily columnist Ilana Mercer is fully on board with WND's race-baiting agenda, eager to scream loud and long that blacks are nothing but thugs and criminals.
In her Aug. 8 column, Mercer laments that even Fox News is "deflect[ing] from the white-hot issue of black-on-white violence":
You see, blacks are also more likely to murder whites than the reverse. This likelihood is a trend O'Reilly and the gang are submerging by emphasizing only the "intraracial" nature of most murders.

They are in "good" company. The Bureau of Justice Statistics does the same – and worse: It often inflates white violent crime by conflating whites with Hispanics.

Thus while 84 percent of white victims were killed by whites, and 93 percent of black victims were killed by blacks; a hell of a lot of whites are killed by blacks, while few blacks are offed by whites.

As regards "stranger homicide," blacks murder whites four times more often than whites murder blacks. Put differently, black-on-white murders constituted 20 percent of the known sample of "stranger homicides." White on black murders constituted 5 percent of the same sample. (Given the direction of the aggression, one wonders whether some in the white cohort were not engaged in self-defense.)

[...]

In the context of black-on-black violence, the self-celebrating media – Mr. O'Reilly and the parade of T & A that goes for commentary on cable – are currently breathing fire over the black family's demise. To get my attention, they'll have to get as fired-up about the white-hot hatred behind black-on-white menace and murder.
Mercer race-baits again in her Aug. 28 column:
"There is no clear motive for why the murder happened," a CNN reporter chanted robotically, in what has been for as long as I can remember SOP (standard operating procedure) in major media. Whenever a black murders a white – which is four times more often than the reverse – the salient features of the crime disappear into a black hole of disinformation.

By salient features I mean, in the main, information pertaining to the skin color of the perpetrator and victim and the extraordinary brutality with which the villain typically goes about exterminating his victim.

Overkill is the word I'm looking for.

[...]

"Sticks and stones may break [your] bones but words will never hurt [you]." That's how children were once wisely taught, in rhyme, to get a grip on the dangers that await them in the world. Prevailing PC pietism has reversed this simple profundity. Dead and disfigured white corpses stacked up in morgues are purported to tell us not a thing about a killer's motives, unless accompanied by nasty words.

But as the cliché goes, "Actions speak louder than words."
Mercer also describes the death of Christopher Lane as being at the hands of "another pair of feral black youths," disappearing the white youth who is also charged in the death.
Posted by Terry K. at 9:18 PM EDT