CNS' Jeffrey Tries To Claim MLK For Republicans
Topic: CNSNews.com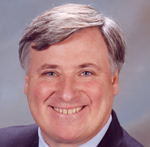 Terry Jeffrey apparently can't deal with how civil rights has become a mostly liberal cause. So the CNSNews.com editor in chief has dedicated a couple of articles to cherry-picking Martin Luther King Jr. in order to portray him as endorsing conservative causes.
One of Jeffrey's articles carries the headline "MLK: 'A Just Law is a Man-Made Code That Squares With the…Law of God'" and quoted from his "Letter from Birmingham Jail." The second carries the headline "MLK: 'Whatever We Do, We Must Keep God in the Forefront'" and quotes from a 1955 sermon "four days after Rosa Parks was arrested in Montgomery, Ala., for refusing to give up her bus seat to a white person."
That's some wide-ranging cherry-picking there to selectively glom onto King's legacy.
Posted by Terry K. at 1:56 PM EDT