MRC Tries to Bury Cuccinelli's Ethics Scandal
Topic: Media Research Center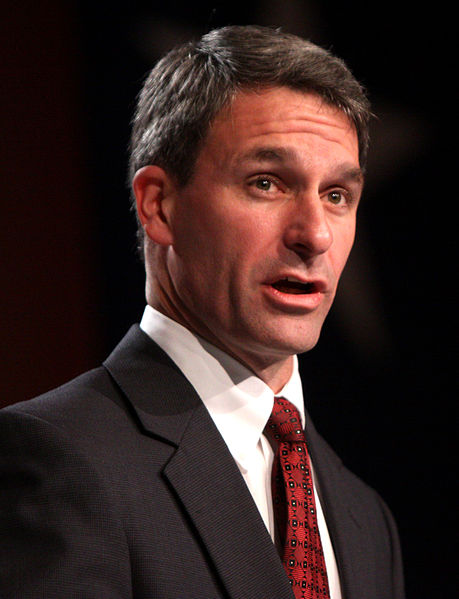 The typical Media Research Center report fails to inform readers of its methodology for arriving at its predetermined conclusion that the media is liberal and treats conservatives unfairly. But surprise, surprise -- the MRC finally does so.
A Sept. 3 report by Rich Noyes examining coverage of Virginia gubernatorial candidates actually makes such a disclosure. And, well, it's kind of odd:
METHODOLOGY: MRC analysts tallied all statements from journalists and quoted sources that were explicitly pro- or anti- one of the candidates. If the total of these comments in a story were tilted in either direction by a greater than three-to-two margin, then the story was scored as either "positive" or "negative" for that candidate. Otherwise, the story was classified as "mixed" or "neutral." Our analysts only examined comments about the candidates' merits, and excluded judgments about the campaign "horse race," i.e., poll standings or fundraising.
Noyes doesn't explain how he arrived at his conclusion that a "three-to-two margin" was sufficient to tag a story as tilted a certain direction, nor why he chose to exlude "horse race" judgments.
Further, Noyes admits that at least some stories were balanced or neutral, but at no point during his report does he state how many there were -- he only compares positive vs. negative coverage.
But the point of Noyes' report is not to demonstrate how well (or, in this case, how poorly) the MRC follows accepted standards for research. It's to try and defuse criticism of the Republican in the race, Ken Cuccinelli.
Noyes predictably complains that "Cuccinelli has received far more negative coverage than his rival," Democrat Terrry McAuliffe, and "despite ongoing ethical questions surrounding Terry McAuliffe, these newspapers have collectively run twice as many pieces talking about Cuccinelli's ethics than those of his Democratic competitor."
Which ultimately gets us to the nub of this -- whitewashing Cuccinelli's ethics problems. And Noyes does his best to do that:
Controversies swirled around both candidates, but ethical questions surrounding Ken Cuccinelli drew twice as much attention from these newspapers as those involving Terry McAuliffe. From June 12 through August 31, 91 news stories (34% of the total) and 61 editorials and columns (44% of the total) mentioned or discussed Cuccinelli's ethics, most prominently questions surrounding his belated disclosure of gifts from Star Scientific CEO Jonnie Williams (accounting for 119 of the 152 stories talking about Cuccinelli's ethics).

In contrast, 48 news stories (18%) and 27 opinion pieces (19%) talked about McAuliffe's ethical problems, chiefly his stewardship of GreenTech Automotive, currently the subject of a federal investigation by the Securities and Exchange Commission. Overall, readers saw 152 stories about Cuccinelli's ethics, vs. just 75 about McAuliffe, a greater than two-to-one disparity.

Cuccinelli's name was frequently brought up in stories about Virginia Governor Bob McDonnell, who is currently being investigated for receiving far more in gifts and loans from the same businessman. A July 18 report by Commonwealth's Attorney Michael Herring, a Democrat, cleared Cuccinelli of wrongdoing in failing to disclose his gifts until April 2013, when the investigation into McDonnell was underway, but the positive report did little to stem the flood of coverage.
Noyes fails to highlight one possible difference in the treatment of the two alleged scandals: Cuccinelli accepted gifts from a political donor while in office, which creates the appearance of impropriety and of a politician who can be bought. McAuliffe is a businessman and former Democratic Party official who has never held elective office.
Noyes also seems to think that a Democrat-led investigation that "cleared Cuccinelli of wrongdoing in failing to disclose his gifts until April 2013" is some sort of exoneration and somehow makes Cuccinelli look less bad for accepting the gifts in the first place. But Noyes doesn't note that Cuccinelli has refused to pay back all of the gifts because, he claims, some of them were intangible -- an airplane flight, a free dinner, and supplements.
Noyes' boss, Brent Bozell, reinforced the report's spin in a Sept. 6 column, making it abundantly clear that the purpose was to whitewash Cuccinelli's ethics problems:
Cuccinelli admitted error in failing to disclose gifts from Williams, then asked a Democrat to investigate the matter, who absolved him of impropriety. The End. McAuliffe continues to use the Clinton playbook – dodging, weaving, denying, even lying about charges dealing with massive fraud. Yet Cuccinelli's "problems" get twice the coverage of his rival.
Since when did Bozell become the judge of what should be "the end" of examination of Cuccinelli's ethics?
Posted by Terry K. at 11:49 PM EDT