WND's Jim Fletcher Doesn't Understand Newspaper Economics
Topic: WorldNetDaily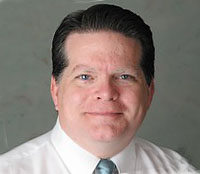 When anyone invokes Rush Limbaugh, that should be a warning sign. Jim Fletcher writes in his Aug. 29 WorldNetDaily column:
As usual, Rush Limbaugh makes more sense than all the liberals combined. It's always fascinating to watch the left come up with reasons for a certain reality, when in fact they are not facing the real reason(s).

Take the decline of newspapers, for instance.

I used to be a newspaper junkie, as many as I could lay my hands on. I'd get to work early so that I could devour all the news. Op-ed pages were my favorite. My personal print newspaper decline began when some of the old guard of the op-ed pages – men like John Robert Starr in Arkansas – began to well, die. Frankly, I found their replacements to be … mediocre.

But I digress. The real reason papers have declined in readership, of course, is the obvious: People were fed up with liberalism in the media, and they saw the rise of "the Internets."
So how does Fletcher account for the fact that conservative newspapers like the Washington Times and the Pittsburgh Tribune-Review would not be in business were it not for deep-pocketed owners willing to absorb millions of dollars of annual losses, even when there was no competition from the Internet? How does Fletcher account for the fact that even deep-pocketed owners get tired of losing money, which finally allowed the Washington Examiner and Human Events to succumb to market forces?
Is Fletcher going to blame the content of these conservative papers for their demise and lack of profit, as he does for "liberal" newspapers? Of course not -- Rush Limbaugh told him not to.
Posted by Terry K. at 2:13 PM EDT