NewsBusters: Obama Is A Journalist Whisperer!
Topic: NewsBusters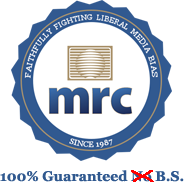 Ken Shepherd writes in a Sept. 1 NewsBusters post:
The president's call on Saturday for Congress to debate and pass a resolution authorizing airstrikes against Syria also served as a telegraphed message to the liberal media about how to spin the message in a way that puffs the president politically while turning a serious question of foreign policy and use of military resources into a domestic political grist for the 2014 midterms.
So Obama is sending secret "telegraphed messages" to the media?
After bashing a Wall Street Journal article for not hating Obama enough for pushing for an airstrike against Syria, Shepherd huffs:
Responsible journalism would call for dispassionately relaying all sides of the debate rather than helping the White House write this into a partisan narrative.
If Shepherd really believes that "responsible journalism" doesn't take sides, he might want to have a chat with Terry Jeffrey, editor in chief of the "journalism" end of the Media Research Center, CNSNews.com. He has an article headlined "Obama to Congress: I Don't Need Your Authorization for War, But Give It to Me Anyway."
If the MRC's own "journalism" operation can't act in a balanced manner, what authority do Shepherd and the MRC have to demand it of other media outlets?
Posted by Terry K. at 1:20 AM EDT