ConWeb's Climate Change Deniers Get It Wrong on Arctic Ice
Topic: The ConWeb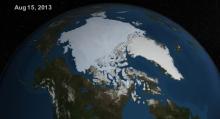 Reports of increased Arctic Sea ice brought out the usual climate change deniers in the ConWeb to trumpet the news:
NewsBusters serial misinformer Tom Blumer touted "the cold, hard fact of growing Arctic ice cover, as well as its possible implications," as reported by British newspapers like the Daily Mail, adding: "As is all too often the case, in certain matters affecting things here in the United States, if we didn't have news from Britain, we wouldn't have any real news at all."
Newsmax's Melanie Batley similarly promoted how "An unusually cold Arctic summer has resulted in almost a million more square miles of ocean covered with ice compared to the same time last year, bucking predictions that global warming would result in the disappearance of the ice cap by 2013." She also cited the Daily Mail.
But as Media Matters documents, Arctic ice was at a record low last year, so a large percentarge increase of the kind conservative outlets are reporting is not unexpected, and the recent historical trend shows that Arctic ice is in decline and this year's numbers still fall short of the average over the past 30 years. Neither Blumer nor Batley mentioned the historical trend.
Further, Blumer might want to widen his British newspaper reading horizons to include the Guardian, which points out that "When it comes to climate science reporting, the Mail on Sunday and Telegraph are only reliable in the sense that you can rely on them to usually get the science wrong." The Guardian adds: "Every year when the weather acts to preserve more ice than the previous year, we can rely on climate contrarians to claim that Arctic sea ice is 'rebounding' or 'recovering' and there's nothing to worry about."
CNSNews.com's Barbara Hollingsworth -- who we last saw at the Washington Examiner promoting bogus statistics about tea party rally attendance -- devoted a Sept. 13 article to attacking Al Gore for repeating a prediction that Arctic ice could disappear by this year, repeating claims that there is "a 60 percent increase in the polar ice sheet. "Hollingsworth made no mention of the Guardian's statement that given the historical trend, "an ice-free Arctic appears to be not a question of if, but when."
Posted by Terry K. at 8:25 PM EDT