CNS Devotes 'News' Articles To Bill Maher Jokes
Topic: CNSNews.com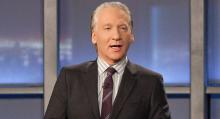 Remember when CNSNews.com was treating Obama-bashing Jay Leno jokes as "news"? They're at it again, now giving jokes they don't approve of the same treatement.
Melanie Hunter cranked out not one but two articles on jokes by Bill Maher. The first article huffed, "Comedian Bill Maher said Friday on 'Real Time with Bill Maher' that Jesus 'bitched' about the rich, but never said anything about homosexuality. The second article complained that Maher "accused Supreme Court Justice Antonin Scalia of being 'more racist' than Paula Deen."
Hunter makes no effort to counter anything Maher said -- she's just offended that he said them.
Isn't whining about the jokes of late-night comedians the job of other MRC divisions like NewsBusters? Not anymore, apparently.
Comedian Bill Maher said Friday on "Real Time with Bill Maher" that Jesus "bitched" about the rich, but never said anything about homosexuality. - See more at: http://www.cnsnews.com/news/article/bill-maher-jesus-b#sthash.5Uiy5Bo3.dpuf
Posted by Terry K. at 11:59 PM EDT
Updated: Tuesday, July 2, 2013 12:00 AM EDT