WND Columnist: End-Time Teach Keeps Christians In Line
Topic: WorldNetDaily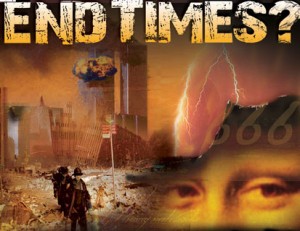 Tom Flannery seems to have inadvertently given away a secret about evangelical Christianity.
In rebutting a video made by fellow WND columnist Bradlee Dean criticizing evangelicals who teach end-times theology, Flannery's Sept. 2 WND column defends end-time teaching as "a message of hope and joy unspeakable" -- and, as it turns out, a good way to keep Christians in line:
Truth be told, end-time teaching is one of the most powerful motivating factors there is for godly living and making your life count in this world for Christ – since, if you truly believe that the Rapture is imminent, that it could happen at any time, you are far more likely to live each day as if it could be your last and you were about to stand face-to-face with the Lord.
Admitting you're scaring people into believing in God seems a bit counterproductive -- not to mention having the dubious effect of proving Bradlee Dean correct.
Posted by Terry K. at 3:32 PM EDT