As Inflation Goes Down, CNS Stops Invoking It To Attack Biden
Topic: CNSNews.com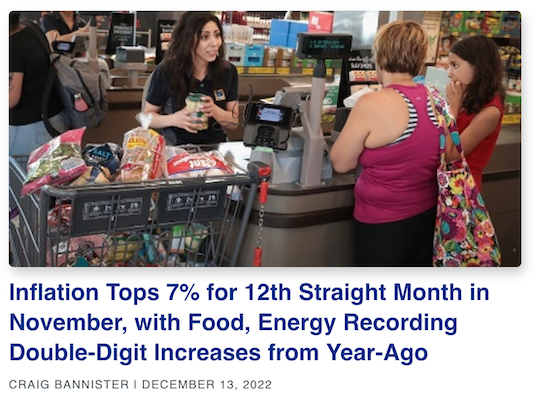 As it did with oil prices, CNSNews.com followed the partisan right-wing playbook to explicitly or implicitly blame President Biden for high inflation even if it couldn't identify any specifric policy that led to a specific increase. A Sept. 13 article by editor Terry Jeffrey, hyped how "prices on all items in the United States increased by 8.3 percent from August of 2021 to August of 2022" and was illustrated with a file photo of Biden.
A Sept. 19 article by Susan Jones complained that Biden was "putting his best possible spin on the highest inflation since 1982" by emphasizing slowing month-to-month increases instead of the annual number Jones would rather hype, though he did parenthetically admit his humbers were correct: "The Bureau of Labor Statistics reported that year-to-year inflation in August was 8.3 percent, but the monthly increase was 0.1 percent, both numbers higher than expected." Jones didn't identify who "expected" lower numbers. Of course, Jones was determined to put her worst spin out there, in part by including a chartt hat "shows how inflation has accelerated since Biden took office," though she identified nothing showing Biden was personally responsible for any of it.
An Oct. 13 article by Jones hyped another monthly inflation increase:
Inflation in September was worse than predicted, rising 0.4 percent month-to-month, compared with the 0.1 percent monthly increase in August.

The year-to-year number, the "headline" number, was 8.2 percent for September, down a tenth of a point from +8.3 percent in August, but still hovering at 40-year highs.
The headline noted that the midterm elections were approaching, which is why Jones hyped these numbers -- to help Republicans win and Democrats lose. Jones complained about another failure to accept right-wing narratives on inflation -- or, in the headline's words, "reframe[d] the argument" -- in an Oct. 13 post:
With two weeks to go until election day, House Speaker Nancy Pelosi (D-Calif.) suggested that Americans shouldn't worry so much about the rising price of food and gasoline, because that's not the real issue.

"It's not -- the fight is not about inflation. It's about the cost of living," Pelosi told CBS's "Face the Nation" on Sunday.

"And if you look at what we have done to bring down the cost of prescription drugs, to bring down the cost of -- of energy and the rest in our legislation, you will see that that has been opposed every step of the way by the Republicans, and they have no plan for lowering the cost of living or helping with inflation."

Pelosi said when the talk turns to inflation, Democrats "have to change that subject."

She noted, as other Democrats have done, that inflation is a "global phenomenon." "The E.U., the European Union, the U.K., the British, have a higher inflation rate than we do here."
An Oct. 17 article by Melanie Arter seemed annoyed that Rep. Bernie Sanders (not inaccurately) argued that inflation was being caused by the pandemic, the war in Ukraine and "incredible corporate greed."
When those inflation attacks failed to significantly hurt Democrats in the midterms, CNS seemed to take revenge in reporting on the next month's numbers in a Nov. 10 article by Craig Bannister wordily headlined "Fuel Oil Prices Skyrocket 68.5% and Overall Energy Prices Jump 17.6% Over Past 12 Months in October, BLS Reports":
Consumer prices rose 7.7% in September, compared to the same month last year, and increased 0.4% from September, on a seasonally-adjusted basis – but, the cost of energy rose much more, the U.S. Bureau of Labor Statistics (BLS) reportedThursday.

Overall, energy prices rose 17.6% in October on an unadjusted basis, compared to the same month in 2021. Compared to the previous month, October 2022 saw the energy price index increase a seasonally-adjusted 1.8%, according to the monthly BLS report.

he price increases in energy products are making it much harder for Americans to afford to heat their homes this winter.
Bannister concluded with a quote from the right-wing Heritage Foundation attacking Biden for inflation, though citing no specific policies responsible for a specific increase.
When November's numbers came out, CNS went into spin mode again. A Dec. 12 article by Arter complained that "President Biden on Tuesday seized on news that inflation is slowing, rising only 0.1 percent on a seasonally adjusted basis in November, after increasing 0.4 percent in October." The next day, Bannister did some more reframing to portray inflation as still high while hiding that rate decrased, under the similarly wordy headline "Inflation Tops 7% for 12th Straight Month in November, with Food, Energy Recording Double-Digit Increases from Year-Ago":
Over the last 12 months, consumer prices for all items have increased 7.1%, before seasonal adjustment, the U.S. Bureau of Labor Statistics (BLS) reported Tuesday, releasing data for November 2022.

On a seasonally-adjusted basis, the Consumer Price Index for All Urban Consumers (CPI-U) rose 0.1% in November. However, when compared to the same month in 2021, overall prices were up 7.1% last month, with the food and energy categories suffering double-digit percentage price increases.

What's more, it's been a full year since the last time inflation increased by less than 7.0%, year-over-year. In November of 2021, prices rose 6.8% from the previous November's level. The next month, the 12-month increase rose to 7.0% and hasn't been that low in any month since.
Bannister refused to tell readers that the rate was a decrease from 7.7 percent in October.
Inflation fell even further in December to an annual rate of 6.5 percent thanks to a 0.1 percent decrease from November to December. But neither Bannister nor anyone else at CNS thought this was newsworthy enough to do a story about.
Posted by Terry K. at 11:43 AM EST
Updated: Sunday, February 5, 2023 11:48 AM EST