MRC Finds A New Angle To Distract From Attack on Paul Pelosi
Topic: Media Research Center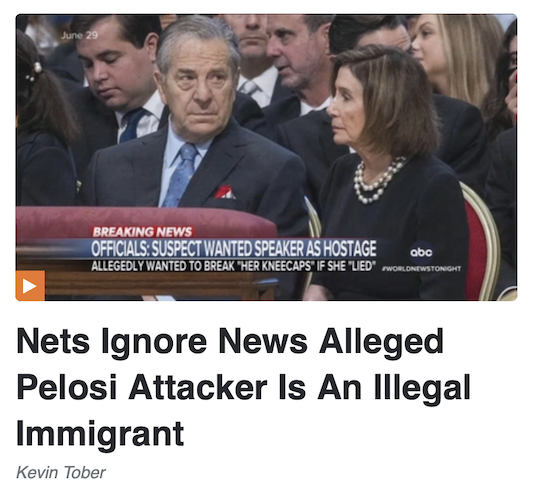 The Media Research Center's mission following the hammer attack on Paul Pelosi was to desperately try to distract from it by pretending the attacker wasn't politically motivated, even though he broke into Pelosi's house shouting, "Where's Nancy?" Kevin Tober found a new distraction in an Oct. 31 post regarding the attacker's alleged immigration status:
Despite spending parts of their respective reports lashing out a Republicans for the attack on House Speaker Nancy Pelosi's husband Paul in the middle of the night on Friday, the big three evening news networks managed to ignore the fact that the alleged attacker was an illegal immigrant who overstayed his visa. Only Fox News's Special Report mentioned this key detail.

Instead of covering the fact that the attacker shouldn't have been in the country in the first place, ABC's World News Tonight tried blaming Republicans and claimed the attacker was motivated by politics.

Correspondent Mola Lenghi kicked off the segment for ABC by claiming "DePape allegedly describing the Speaker as the quote leader of the pack of what he said were lies told by the Democratic Party."

Continuing to describe the intentions of the attacker, Lenghi proclaimed that "DePape also later explained that by breaking Nancy's kneecaps, she would then have to be wheeled into congress, which would show other members of congress there were consequences to actions."
We've already noted how Tober then leaned into blaming the victim by sneering that Pelosi wouldn't have been attacked if he had been in jail for a DUI conviction as he purportedly should have been.
A Nov. 1 post by Alex Christy complained that right-wingers' viciously anti-Nancy Pelosi rhetoric was beinbg called out as a contributing factor in inciting Pelosi's assailant as he tried to turn that criticism into a conspiracy theory: "Alleging that simply calling Pelosi "crazy" is responsible for the assault is insane and just a not-so clever way to demand that Republicans shut up and stop criticizing Democrats." Christy theorized later in the day that referring to Republicans' "fetishization of violence" was a code word, "MSNBC's way of saying support for the Second Amendment in their campaign ads," going on to whine: "One can hope, but shouldn't hold their breath, that MSNBC will dial down the rhetoric that accuses the most basic sort of campaigning with a 'fetishization of violence.'"
The MRC then had to ride to the defense of one of its favorite (pre-election, anyway) right-wing darlings, Republican Arizona governor candidate Kari Lake, for making a stupidly insenstive remark about the attack on Pelosi. Curtis Houck huffed:
Like NBC would do, [CNS Mornings co-host] co-host Tony Dokoupil focused on comments from Arizona gubernatorial candidate Kari Lake (R) in which she simply noted that, in answering a question about securing schools, House Speaker Nancy Pelosi (D-CA) has "apparently, her house doesn't have a lot of protection."

The crowd laughed, leaving the media to argue Lake represented the GOP making fun of the attack.

"Many Republicans have condemned the attack on Paul Pelosi, but some others have made light of it, including Kari Lake, who is in a tight race for governor in Arizona. She brought the assault up when replying to a question about safety in schools," Dokoupil said.
Houck offered no evidence that Lake wasn't making fun of the attack. Meanwhile, Mark Finkelstein similarly complained that CNN's Don Lemon condemned Kari Lake for her comments on the attack, calling them "vile, vile," then attacked Lemon instead of criticizing Lake's insensitivity: "If the goal of Chris Licht, the new CNN honcho, was to move the liberal network toward the center, today was an ominous start."
HOuck got back on track to the main distraction narrative and spouting of talking points -- and stenography for a Republican senator -- in another post:
Senator Tom Cotton (R-AR) finally put a stop on Tuesday to CBS Mornings's attempts to blame conservatives and Republicans for the brutal attack on Paul Pelosi by a drug-addicted mentally ill, and former Green Party nudist. During the six-plus-minute interview meant to promote his new book, Cotton calmly beat down the repeated aspersions from co-host Tony Dokoupil by citing the left's double standard on crime and political violence.

Dokoupil began by wondering what was his "reaction" to the alleged crime seeing as how House Speaker Nancy Pelosi (D-CA) is "a fellow elected official." Cotton immediately sniffed out where Dokoupil was going, stating "it's a terrible crime against Paul Pelosi" and not only did he " wish him the very best and a full recovery," but called for "the book&rdquo to be "throw[n]...at the assailant."

Adding the suspect is reportedly in the U.S. illegally, Cotton said "throw[ing] the book at" violent criminals should always be the case and regardless of whether it's Mr. Pelosi, or "any common criminal who attacks someone" regardless of their status.

Dokoupil nonetheless tried to pin Cotton down, insisting crimes against ordinary citizens (i.e. those without means to recover after such an attack) needed to be "separate[d] out" from "what seems to be politically-motivated crime."

He then asked the Arkansas junior senator "whether the temperature in the country is just too high, the information is just too much, and that we're going to see more, not less political violence going forward."

Cotton wasn't having it and implicitly took aim at those suggesting policies and views espoused by the early 2010s Tea Party caused it, arguing "deranged lunatics" have gone after people in both parties and thus he didn't"think John Boehner 12 years ago pointing out that Nancy Pelosi passed ObamaCare or Kevin McCarthy now pointing out that she passed trillions of dollars in spending that caused...inflation led to this...apparent nudist activist breaking into their home."
More posts continued to lash out at commentators linking extremist right-wing rhetoric to the attack:
The MRC dabbled in baseless conspiracies as well. A Nov.3 post by Jeffrey Clark uncritically noted that on CNBC,a host and a guest "clashed over Tesla CEO and Twitter owner Elon Musk's now deleted comments on the Paul Pelosi controversy. After a reported illegal alien and drug user assaulted House Speaker Nancy Pelosi's (D-CA) husband in their San Francisco home, Musk shared a story that questioned the official narrative of the attack, and asked why the attacker was reportedly in his underwear." Clark didn't mention that there was no evidence whatsoever to support the low-credibility site whose conspiracy theory Musk amplified.
There would be more whataboutism, of course. More soon.
Posted by Terry K. at 10:40 PM EST