Irresponsible: WND Treating Rumors As Fact To Falsely Smear COVID Vaccines
Topic: WorldNetDaily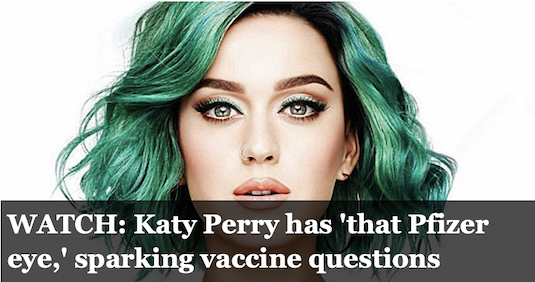 WorldNetDaily is so dedicated to spreading COVID vaccination that it's even trying to amplify baseless rumors.An anonymously written Oct. 25 article declared:
With the multitude of side effects and other problems that now are appearing and are attributed to the COVID-19 shots that were mandatory for so many, a glitch in a performance by a celebrity is not without such claims.

It was singer Katy Perry who recently suffered an unusual episode where she appeared to be unable to open her right eye for a time.

[...]

It lasted about 15 seconds and drew the immediate concern that, "She got that Pfizer eye," from those attributing the development to a COVID shot.

A Fact Check by Newsweek pointed out that Perry fans "became very concerned for the pop star when her eye appeared to refuse to open."

[...]

The report noted, "But many social media users joked the eye closing was the result of a side-effect from a Covid-19 vaccine, bringing a misleading anti-vaccine narrative back to the surface."

The report noted Perry hasn't acknowledged the issue, but it claimed, "There is no evidence to support claims that vaccines, COVID or otherwise, caused it."
If there's no actual evidence to link COVID vaccines to Perry's eye issue beyond spculation from Twitter trolls, there's no reason for this story to exist. But WND must denigrate COVID vaccines even when there's no factual basis to do so, so we have this story. No wonder the WND writer was apparently so ashamed at having to write this thing that he or she refused to put their name on it.
Not to be outdone on irresponsible speculation, Joe Kovacs wrote in an Oct. 30 article:
A top Republican lawmaker died suddenly on Sunday at the age of 55, and with no cause of death provided, some are wondering if a COVID vaccine possibly played a part.

Hugh McKean, Colorado's House minority leader, died in his home just three days after turning 55.

[...]

With many news agencies not even raising the possibility of a possible COVID-vaccine connection, J.D. Rucker at The Liberty Daily wondered "Was it the jabs?" as he blasted "the increasingly large category of conservative news outlets who refuse to mention the words 'COVID' or 'vaccine' in any story that deals with sudden inexplicable deaths of young and otherwise healthy people."

"This is due to the tyrants in Big Tech who will blacklist any news outlets that even ask the question. Google and YouTube will cut off their big ad dollar checks. Facebook will cut off the massive amounts of traffic they send to news outlets. It's an unfortunate reality that even respectable conservative or alternative news outlets won't dare risk their gravy trains."

Rucker concluded: "The truth is starting to come out. It's usually dropping in trickles. Sometimes the spigot lets out a bit more. Over time, the people will see the truth. We can only hope and pray it reaches as many in time as possible."

Others on Twitter commented:

"Will the true autopsy be released?"
"We need to know WHY??? I hate autopsies but please let us know what caused him to pass so young in such an important state!"
"When was he last b🤔🤔std with the j@b of death?"
Never mind the fact that "a possible COVID-vaccine connection" was not mentioned because there is absolutely no reason to do so. Kovacs is clearly such a wildly irrespnsible reporter that he's happy to promote rumors as fact to push his employer's tide of dishonesty against COVID vaccines. It turns out that McKean died of a heart attack -- not unheard of in a 55-year-old man.
We'd complain about irresponsible reporting here, but irresponsible, nonfactual reporting is WND's brand.
Posted by Terry K. at 1:03 AM EST
Updated: Thursday, November 17, 2022 1:07 AM EST