CNS Gets 2 'News' Articles Out Of Pelosi Purportedly Elbowing A Child
Topic: CNSNews.com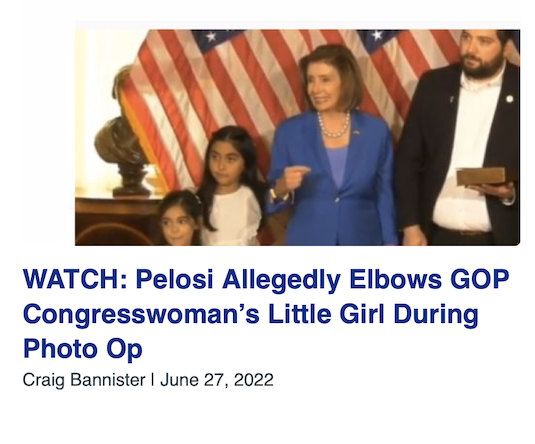 CNSNews.com opened up a new front in its multi-pronged war against Nancy Pelosi: the Elbow War. Craig Bannister hyped in a June 27 article:
House Speaker Nancy Pelosi (D-Calif.) allegedly elbowed the young child of Rep. Mayra Flores (R-Texas) at a photo op at Flores' swearing-in ceremony last week.

"I love this princess stood her ground, while Nancy showed her true colors," conservative actor James Woods tweeted Sunday, posting video of the incident.

"I am so proud of my strong, beautiful daughter for not allowing this to faze her," Rep. Flores tweeted, replying to Woods' post. "She continued to smile and pose for the picture like a Queen. No child should be pushed to the side for a photo op. PERIOD!!" Flores added.

Flores, who won a special election earlier this month, is the first Mexican-born member of Congress and the first Republican ever to win her district's House seat.
Bannister waited until the next day before bothering to balance the story by telling the other side of it, which he framed as "damage control":
After video of House Speaker Nancy Pelosi (R-Calif.) elbowing and hip-checking the young daughter of Rep. Mayra Flores (R-Texas) went viral on Monday, Pelosi's deputy chief of staff took to Twitter to do damage control.

Deputy Chief of Staff Drew Hammill claimed that Pelosi was simply trying to make sure Flores' little girl wasn't hidden from the cameras during the photo op on June 21, held after the Texas congresswoman was sworn in.

Hammill criticized media that reported the incident for misrepresenting Pelosi's purported good deed:

"It's sad to see 'news outlets' that know better misrepresent the Speaker's effort to ensure Rep. Flores' daughters wouldn't be hidden behind her in all of the photos of such an important moment for their family."

However, there seems to have been no reason for Pelosi to take action to ensure Flores' child "wouldn't be hidden behind her," since the viral video appears to show that the little girl wasn't behind Pelosi, but clearly visible at her side.
Yes, CNS generated two "news" stories out of this minor incident, for the apparent sole purpose of attacking Pelosi. That's because CNS is a Republican Party PR outlet, not a "news" operation.
Posted by Terry K. at 6:09 PM EDT