WND Spreads COVID Vaccine Misinfo, Florida Man Division
Topic: WorldNetDaily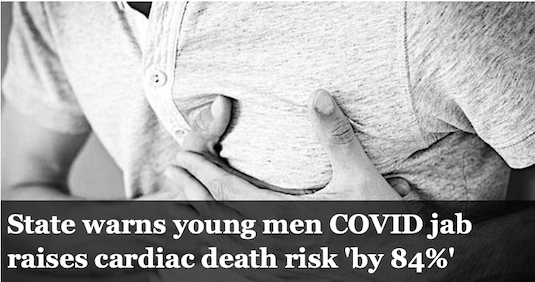 Art Moore, WorldNetDaily's leader in spreading falsehoods and misinformation about COVID treatments and vaccines, gets some help from a Florida man in an Oct. 10 article:
Breaking ranks with the CDC, Florida Surgeon General Dr. Joseph Ladapo is urging men aged 18 to 39 not to get a COVID-19 vaccine.

In a tweet censored by Twitter, Ladapo cited a Florida Department of Health analysis that found the mRNA jabs raise the risk of cardiac-related death by 84% in young males.

[...]

In March, Ladapo announced the state had become the first to recommend against vaccinating healthy children for COVID-19. The announcement came at the end of an 85-minute roundtable of epidemiologists and other medical scientists hosted by DeSantis titled "The Curtain Close on COVID Theater." The governor posed questions regarding the effectiveness of the vaccines in reducing infection and transmission as well as the crucial issue of safety. Among the participants were Drs. Robert Malone, Harvey Risch of Yale, Jay Battacharya of Stanford, Sunetra Gupta of Oxford and Martin Kulldorf, formerly of Harvard.

The new Florida Department of Health analysis analysis was criticized by some scientists, but Ladapo countered Monday on Twitter with a point-by-point rebuttal.

The surgeon general said he welcomed the debate.

"Isn't it great when we discuss science transparently instead of trying to cancel one another?" he wrote on Twitter.
Except that few of the "rebuttal" points Ladapo issued, as copy-and-pasted by Moore, addressed the many issues legitimate medical professionals have identified with the study -- starting with the fact that it was anonymously written, unlike virtually every other research study in exixtence. As a media outlet that cares about honest reporting detailed:
More than a dozen experts interviewed by The Washington Post — including specialists in vaccines, patient safety and study design — listed concerns with Florida's analysis, saying it relies on information gleaned from frequently inaccurate death certificates rather than medical records, skews the results by trying to exclude anyone with covid-19 or a covid-related death, and draws conclusions from a total of 20 cardiac-related deaths in men 18 to 39 that occurred within four weeks of vaccination. Experts noted the deaths might have been caused by other factors, including underlying illnesses or undetected covid.

"We're talking about a very small number of deaths. An extra death or two would potentially change these results," said Robert Wachter, chair of the department of medicine at the University of California at San Francisco and co-author of a patient-safety textbook used in many medical schools. "I'm hesitant to even call it a paper; it isn't published anywhere. The idea that [the analysis] … is being used to change policy — it does not have the scientific chops to do that."

"If you submitted that to a peer-reviewed journal, unless you were paying them to publish it, it would get rejected," added Daniel Salmon, who leads the Institute of Vaccine Safety at Johns Hopkins Bloomberg School of Public Health. "Putting out half-baked reports from a department of health is a dangerous thing to do."
By contrast, Moore talked to no experts and merely regurgitated Ladapo's claims about the study without bothering to fact-check anything he said. He did, however, admit the study has not been peer-reviewed, so he gets a brownie point for that. He also added a video of an interview Ladapo did on Steve Bannon's far-right webcast "War Room: Pandemic," which also does not inspire confidence in anything Ladapo has to say. Not that Moore will tell you any of that, of course; his job is to fearmonger and misinform, not report honestly.
Posted by Terry K. at 2:30 PM EDT