MRC Obsessed Over Paul Pelosi DUI -- Then Used It To Bash Him After Attack
Topic: Media Research Center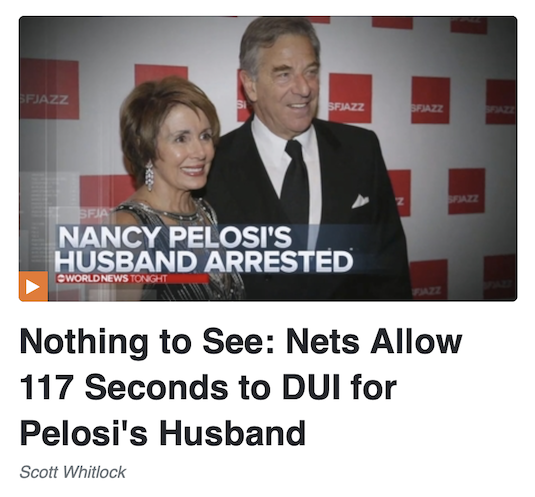 Earlier this year, the MRC was obsessed with Paul Pelosi, husband of hated Democratic House speaker Nancy Pelosi, getting arrested on a DUI charge, repeatedly demanding that it be treated as a major news story even though it, um, wasn't. Scott Whitlock whined in a May 31
post
:
Paul Pelosi, the husband of liberal media favorite Nancy Pelosi, on Saturday night was arrested for allegedly driving drunk. The three networks jumped into protection mode, allowing just 117 seconds total. ABC's coverage was the paltriest, just a scant 22 seconds on Sunday night.

The NBC and CBS morning and evening newscasts did slightly better: A still pathetic 39 seconds on NBC and 56 seconds on CBS.

[...]

ABC allowing a scant 22 seconds shouldn't be shocking. The network has a long history of fawning over Speaker Pelosi.
When the right-wing obsession with the DUI was pointed out, P.J. Gladnick grumbled in a June 5 post:
Perhaps Newsweek somehow hasn't gotten the message that the word "pounce" as in "Republicans pounce" has become such a laughable cliché that even Politico has ditched it in favor of "seized" after years of being mocked for overusing it. Last Sunday, Newsweek pulled out the worn cliché to frame their story by Jason Lemon about how Republicans reacted to the arrest of House Speaker Nancy Pelosi's husband for DUI in "MAGA Republicans Pounce After Nancy Pelosi's Husband Arrested for DUI."

The story itself wasn't so much about Paul Pelosi's DUI but how Republicans reacted or "pounced" in reaction to it:
Neither Whitlock explained why such a minor crime story warranted the national coverage they demanded.
A July 18 item by Tober referenced "Nancy Pelosi's drunk-driving husband" in accusing him of improperly buying stocks. He was back on the DUI beatwith another "nets ignore but Fox News promotes" post on Aug. 3:
On Wednesday morning, a lawyer for Paul Pelosi, the husband of House Speaker Nancy Pelosi, showed up on his behalf in a Napa County, California courthouse to plead not guilty during Pelosi's arraignment on DUI charges. Court documents also revealed more details about the night Pelosi was arrested for driving with a blood alcohol level above the legal limit.

Predictably, all three evening news network broadcasts ignored the latest revelations about Speaker Pelosi's drunk driving husband in favor of local weather reports, an erupting volcano in Iceland, and a large hail storm in Canada.

During Fox News Channel's Special Report, senior correspondent Claudia Cowan reported that "according to court documents, Pelosi's breath reeked, and he flunked a sobriety test after he allegedly drove his Porsche into the path of an SUV injuring that driver and totaling both cars."

[...]

"Police release dashcam video all the time, but despite repeated requests from Fox News the video of Pelosi's arrest is still under wraps," Cowan added.
Tober's anti-Pelosi activism finally got a little payoff, and he was happy to gloat in an Aug. 23 post:
Almost three months since Democrat House Speaker Nancy Pelosi's husband Paul was arrested and charged with driving under the influence in Napa County California, ABC's World News Tonight and CBS Evening News decided now would be a good time to report on the story now that Pelosi had been given a slap on the wrist with three years probation, an eight-hour community service program, a three-month course on the dangers of drunk driving, and an "ignition interlock device installed in his car for one year."

Despite Paul Pelosi serving no jail time, NBC Nightly News still decided it was too politically risky for them to touch the story. Instead of reporting on Paul Pelosi's DUI sentence, NBC decided to run a lengthy segment on potentially cancer-causing firefighter gear as well as flooding in Texas.

While ABC & CBS did find time in their broadcasts for news on the drunk driving husband of the woman who's second in line for the presidency, they only allowed twenty-two and twenty-three seconds on the story respectively.

[...]

ABC & CBS deserve no credit for reporting on news they should've been revealing to their audience all along. If this was the spouse of a Republican House Speaker, the drum beat of coverage by the three leftist networks would be unavoidable.
Like his co-workers, Tober never explained why Paul Pelosi's DUI demanded blanket national coverage. And you can be sure if "the spouse of a Republican House Speaker" was involved, Tober would be loudly whining that there was anycoverage at all, no matter how minimal, and cheering Fox News for its inevitable censorship of the story.
Why bring this up now? In an Oct. 31 post touting the MRC's latest distraction from the hammer attack on Paul Pelosi -- that the alleged attacker, David DePape, was in the U.S. illegally on an overstayed visa -- Tober sneered: "While political violence no matter which side commits it is reprehensible, the important fact is that if our nation's immigration laws were enforced and our legal system treated everyone equally no matter how powerful, DePape would have been deported and Paul Pelosi would be in jail on his recent drunk driving charges." Tober offered no evidence that Pelosi's DUI case warranted the long prison term he demands.
Posted by Terry K. at 6:25 PM EST